United Airlines will resume flights between the US and several destinations in Asia next month.
The Chicago-based airline says its twice-weekly San Francisco-to-Shanghai connection via Seoul will return on 8 July. The airline will operate a Boeing 777 on the route.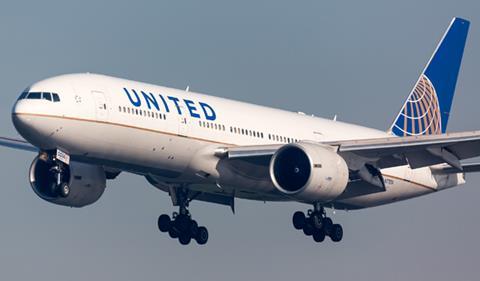 Later in the month, the carrier will reinstate service between Chicago and Tokyo, restart service to Hong Kong and fly to Singapore via a stop at Hong Kong.
"Resuming service to Shanghai from the United States is a significant step in rebuilding our international network," says Patrick Quayle, United's vice-president of international network and alliances on 26 June.
United says that prior to suspending service to Shanghai in February due to the coronavirus crisis, it was the largest US carrier serving China, operating five daily flights between Shanghai and hubs in San Francisco, Los Angeles, Chicago and Newark.
The announcement comes just days after competitor Delta Air Lines said it was resuming flights between the countries this week after a regulatory spat threatened to keep flights suspended indefinitely.
Shortly after the coronavirus crisis had been deemed a pandemic by the World Health Organization in March, China restricted inbound international flights – a bid to stem the number of imported cases. That order prohibited carriers from adding more capacity than they had in schedules on 12 March – a date on which US airlines had no China flights.
In May, Delta and United applied to the Civil Aviation Administration of China (CAAC) for authority to resume passenger flights between the two countries as cases waned, but he CAAC denied their requests. On 3 June, the US Department of Transportation (DOT) responded by blocking Chinese airlines from flying to the USA from mid-June.
But the CAAC soon relented, allowing US carriers to fly a combined four weekly flights to mainland China, according to the US DOT. That agency then granted the same authority to Chinese airlines.