United Airlines has nixed some flights to London and Dublin following the US government's expansion of its travel ban to include passengers arriving from the UK and Ireland.
From 20 March until at least the end of April, Chicago-based United intends to operate just three daily flights to London and one daily flight to Dublin.
The three daily London flights will depart from Newark, San Francisco and Washington Dulles, the airline says.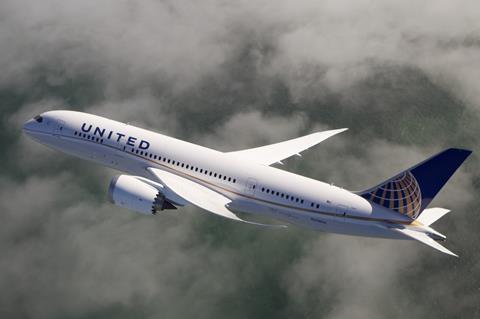 Prior to the latest schedule adjustment, United had planned to fly 18 daily flights to and from London, and three daily flights to Dublin.
But the US government on 14 March announced its European travel ban had been expanded to encompass Ireland and the UK. That is in addition to a ban, which took effect 14 March, on passengers from 26 other European countries.
The bans prohibit foreign nationals who have visited those countries from entering the USA.
Up to 20 March, United expects to continue operating much of its regular schedule, with the exception of its Houston-London and Denver-London routes, which it will suspend as of 16 March.
Also starting 20 March United intends to continue flying daily from the USA to Zurich, Brussels, Paris and Amsterdam, four-times weekly to Lisbon and "multiple" flights to Frankfurt and Munich.
United says that customers whose travel plans are disrupted more than 6h by schedule changes will be given a travel credit for the value of the ticket. It will refund the value of credits that customers do not use after 12 months from the date the ticket was purchased.
That policy also applies to residents from other countries that "effectively can no longer travel" to the USA because they would face a 14-day quarantine upon arrival, as well as customers impacted more broadly by government-mandated travel restrictions or quarantines, United says.