United Airlines will stop flying to New York's John F Kennedy International airport at the end of next month due to lack of slots.
"Given our current too-small-to-be-competitive schedule out of JFK – coupled with the start of the winter season where more airlines will operate their slots as they resume JFK flying – United has made the difficult decision to temporarily suspend service at JFK," the company wrote in a 30 September message to employees.
United now operates four flights daily from JFK – two each to Los Angeles and San Francisco, according to Cirium data.
It will cease those flights and leave the airport on 29 October, United says.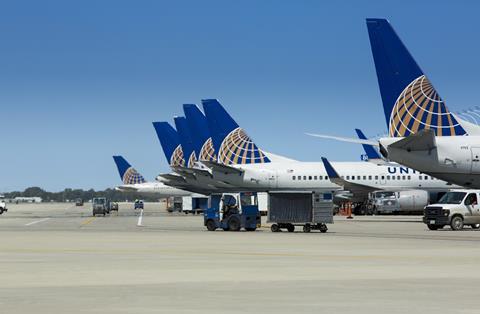 The carrier operates a hub at Newark's Liberty International airport, only about 30 miles (50km) west of JFK, across the Hudson River in New Jersey.
United says it has been having "constructive" discussions with the Federal Aviation Administration about additional slots at JFK that would enable it to return.
"It's clear they are serious about operational improvements in the NY/NJ region, including JFK and [Newark], which is important for all our customers," United says. "That process to add additional capacity at JFK will take some time."
"No one is losing their job," United says it told its 100 employees at JFK. The airline is "eager" to return to JFK when conditions permit and intends to pursue "a bigger and more-desirable schedule".
Earlier this month, the carrier warned employees it might suspend JFK service. In a 6 September note, managers said pulling back from the largest airport in the New York metropolitan area would be "a tough and frustrating step to take, and one that we have worked really hard to prevent".
Now is not the first time United has pulled out of JFK. The carrier stopped operating from the busy airport in 2015 when it consolidated transcontinental flying at Newark.
In the wake of the coronavirus crisis in February 2021, United accessed temporary slots held by other airlines at JFK, the memo says. But, amid surging demand for air travel, competing airlines will use those slots this winter.
United chief executive Scott Kirby recently sent a letter to acting FAA administrator Billy Nolen requesting increased capacity at JFK, pointing to "significant infrastructure investments" made at the airport since 2008.
The letter cited widened runways and new multi-entrance taxiways and high-speed turnoffs. Kirby also called for a reassessment of JFK's slot capacity of 81 operations hourly.
On 7 September, the FAA told FlightGlobal it "must consider airspace capacity and runway capacity to assess how changes would affect flights at nearby airports".
"Any additional slots at JFK would follow the FAA's well-established process of awarding them fairly and to increase competition," the FAA said at the time.