US airlines continue to struggle with staffing issues as the Omicron variant of Covid-19 hits the carriers hard over the busy Christmas travel period.
United Airlines, Delta Air Lines, American Airlines, Alaska Airlines, SkyWest Airlines and JetBlue Airways have been forced to cancel thousands of flights over the past four days, and thousands more were delayed, according to flight tracking website FlightAware.com.
On 27 December alone, those six airlines alone cancelled almost 800 flights as of 12:30pm Pacific Time, and some 2,000 more were delayed.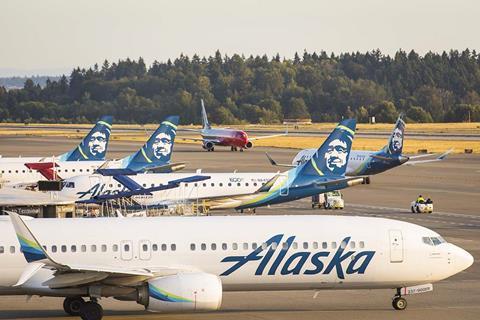 Utah-based SkyWest, a regional carrier for Delta, United, American and Alaska, appears to be the hardest hit, cancelling 306 flights, or 12% of its schedule so far. Another 488 flights are delayed, according to FlightAware.com.
"SkyWest teams are working to recover after weather impacting several hubs, as well as increased Covid cases and quarantines amongst crewmembers, have resulted in higher than normal flight cancels through the weekend and today," the airline says on 27 December.
Alaska Airlines is also making adjustments to its schedule. The carrier says on 27 December that while there were some illness-related cancellations, most were weather-related.
"Severe winter weather in the [pacific northwest] is having a significant impact on our operations, which included ground delays and ground stops for flights to and from Seattle-Tacoma International airport yesterday, December 26. This resulted in the cancellation of 248 mainline flights that were scheduled to arrive or depart Seattle Sunday. As we reset our operations and continue to adjust for difficult weather conditions, we've canceled more than 120 flights today and expect additional cancellations throughout Monday."
"Crew-related cancellations due to Covid are no longer a factor. For reference, we had 17 crew-related cancellations on 23 [December], nine on 24 [December], two on 25 [December], and one 26 [December]," the carrier adds.
Chicago-based United says so far on 27 December it has cancelled 115 flights "due to Omicron staffing issues" out of more than 4,000 flights that the airline had scheduled for the day. Over the course of the past weekend, United cancelled 448 flights.
"The nationwide spike in Omicron cases has had a direct impact on our flight crews and the people who run our operation," United had said last week. "As a result, we've unfortunately had to cancel some flights and are notifying impacted customers in advance of them coming to the airport."
JetBlue has cancelled 66 connections so far on Monday, or 6% of its daily total schedule. Between Friday and Sunday, the airline says it cancelled 395 flights.
"Like many businesses and organizations, we have seen an increasing number of sick calls from Omicron," JetBlue says. "We entered the holiday season with the highest staffing levels we've had since the pandemic began and are using all resources available to us to cover our staffing needs. Despite our best efforts, we've had to cancel a number of flights, and additional flight cancellations and other delays remain a possibility as we see more Omicron community spread."
American Airlines says its operation "has been running smoothly" but that it too is facing a staffing squeeze due to the variant's rapid spread among its flight operations employees.
"Unfortunately, a number of Covid-related sick calls led us to make the difficult decision to pre-cancel some flights system-wide scheduled for today," the Fort Worth-based carrier says on 27 December.
According to FlightAware, American cancelled 86 flights, or 3% of its schedule so far.
Updates on 27 December to add Alaska Airlines statement.