US airlines are weighing options to return to Mainland China after that country said it would eliminate quarantine requirements and ease other Covid-19-driven restrictions for arriving passengers.
Beijing on 26 December said it will drop the measures on 8 January 2023, in what is likely to spark a sharp capacity uptick from airlines around the world.
China's opening follows a broader North Asia reopening in late 2022, which saw neighbouring North Asian countries such as Japan, South Korea and Taiwan drop their travel restrictions.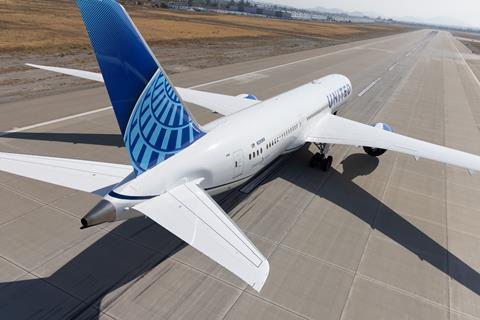 Chicago-based United Airlines, which is currently operating four-times-weekly service between San Francisco and Shanghai with a stopover in Seoul, says it is "currently evaluating the market demand and operating environment to determine when it's right for us to resume additional flight operations to mainland China".
Prior to the pandemic, United served Beijing, Shanghai and Chengdu with numerous weekly connections from its hubs San Francisco, Los Angeles, Washington DC, Chicago and Newark, according to Cirium networks data from December 2019.
Delta Air Lines did not comment on the new policy, or what changes it plans to make to its schedule. Prior to the pandemic, the airline operated flights to China from Atlanta, Detroit, Seattle and Los Angeles.
American Airlines and Air Canada, which also both flew to China prior to the pandemic, did not immediately respond to requests for comment.
Frequencies between the US and China are currently capped at 12 per week, per side. Both governments must agree to increase or change that cap before any flights could be added, one US carrier adds.
Most flights between China and North America were suspended in early 2020 when Covid-19 tore around the world, creating a precipitous drop in demand for long-haul international travel. For most of the past almost-three years, Beijing had a "zero-Covid" policy in place, characterised by mass lockdowns and endless rounds of testing for Covid-19 - and which carried a devastating economic cost. The government now contends that the Omicron variant of Covid-19 is less harmful than previous ones.
That said, reports from China in recent days suggest extremely high infection rates and a rising death toll. Some governments have expressed concern that China's abrupt opening could lead to dangerous new variants.
According to Cirium, only four Chinese airlines currently connect the United States and Mainland China with direct, non-stop flights: Xiamen Airlines, China Southern Airlines, Air China and China Eastern Airlines. The only flights are to New York and Los Angeles.
Those same four airlines, plus Hainan Airlines and Sichuan Airlines, connect China to Canada – and currently only to Toronto and Vancouver.