The US Department of Transportation (DOT) has approved Scandinavian long-haul operator Norse Atlantic Airways' application to operate scheduled and chartered service between Europe and the USA.
The DOT's show cause order, published on 14 January, paves the way for the Oslo-based start-up to launch transatlantic operations with a fleet of 15 Boeing 787 aircraft later this year.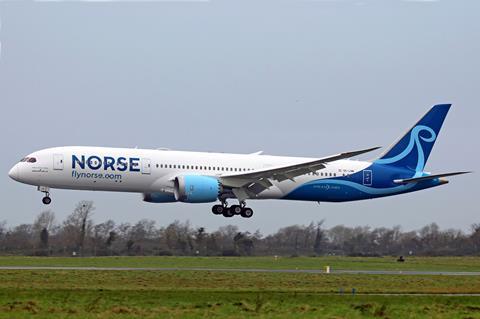 "We are thrilled by the Department of Transportation's approval of our affordable transatlantic flights," says Norse chief executive Bjorn Tore Larsen. "This significant milestone brings Norse one step closer to launching affordable and more environmentally friendly service to customers travelling between Europe and the United States."
In December, Norse secured an air operator's certificate from the Norwegian civil aviation regulator, and also took delivery of its first Boeing 787-9, in Oslo.
Norse Atlantic has said it plans to start commercial operations in spring 2022 with the first flights connecting Oslo to select cities in the US. It has sought formal authorization to launch service to New York, Fort Lauderdale and Los Angeles in Summer 2022.
So far, the airline's website promises "low fare point-to-point services between Europe and the US" and shows a route map that includes Oslo, Paris and London as well as Los Angeles, New York and Florida. Ticket sales do not appear to have commenced yet.
In its DOT application, the airline said it will launch initial services with three Boeing 787s in a two-class configuration.
The airline plans to operate to New York's Stewart International airport, about 68mi (109km) north of New York City, and serve the Los Angeles metropolitan area through Ontario International airport, which is located about 40mi east of the city.
Norse said last year that it had already entered pre-hire agreements for US flight attendants, and has supplemented its crewing arrangements with an agreement on terms for UK pilots with the cockpit union BALPA.
"Norse Atlantic will deliver many jobs to American workers, including hundreds of US-based flight attendants, and will partner with local communities, tourism organizations, businesses, and labour to stimulate economic growth in regions throughout the United States and Europe," Norse adds.
The airline was founded in March 2021, shortly after budget carrier Norwegian – struggling to emerge from a restructuring process – opted to ditch its long-haul, low-cost division which used a fleet of 787s.