US carriers will continue operating flights to Mexico following the Federal Aviation Administration's downgrade of Mexico's aviation safety rating.
Atlanta-based Delta Air Lines, which has had a joint venture with Mexican carrier Aeromexico since 2017, says on 25 May that its own flights are unaffected.
But as a result of the downgrade, Delta will no longer be able to place its code on the Mexican carrier's flights.
Delta believes the Mexican airline to be "incredibly safe", says Delta President Glen Hauenstein.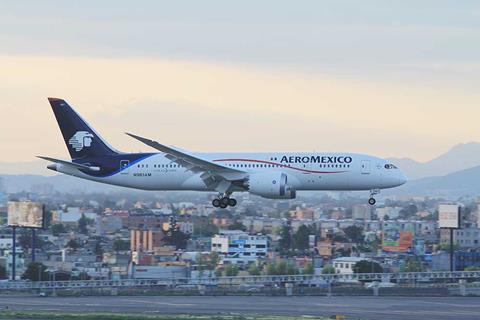 "This is not about Aeromexico, this is about the Mexican version of the FAA and not having some of the right protocols in place," Hauenstein says during an investor conference on 25 May. "We have no issues with the safety of Aeromexico itself."
However, the FAA's move will "restrict Aeromexico's ability to grow into the United States", he adds.
The US regulator said earlier in the day that Mexico and its civil aviation regulator AFAC no longer meet ICAO safety standards. The FAA therefore therefore downgraded Mexico to "Category 2" from "Category 1".
While current air service between the countries may continue, the Category 2 designation means Mexican carriers may not introduce new US routes and that US airlines will be unable to market and sell tickets on Mexican code-share partners.
The FAA will "increase its scrutiny" of Mexican airlines' flights to the USA, it says.
Delta's flights to Mexico City, Guadalajara, Monterrey, Cancun, San Jose del Cabo and Puerto Vallarta will continue to operate normally, it says. "We will still offer those connections," Hauenstein adds.
Mexico-City-based Aeromexico did not respond to a request for comment.
American Airlines, which operates the largest US-to-Mexico network measured in available seat miles, US pilot union Air Line Pilots Association, International (ALPA), and industry group Airlines for America (A4A) declined to comment on the FAA's decision.
United Airlines, the number two US carrier between Mexico and the USA – flying to 21 destinations south of the border – says the announcement does not impact its operations. "We look forward to a swift resolution to the concerns identified by the FAA," the Chicago-based carrier says.
Mexican low-cost carrier Volaris, which code shares with Frontier Airlines, says its current services will remain in place.
"The FAA action pertains only to AFAC, and this is not an assessment of Mexican carriers," Volaris says. "Volaris' safety profile remains unchanged and we believe it is in line with best industry standards from both safety and security standpoints."
"Volaris understands that AFAC has been working closely with the FAA to remedy any technical or regulatory issues," it adds. "Volaris will support the efforts of both regulatory authorities with the objective of restoring Mexico's safety rating to Category 1."
Shifting Mexico to "Category 2" means the FAA is unsatisfied with a country's laws or regulations, or that the country's civil aviation authority has a poor record in areas such as technical expertise, trained personnel, record keeping, inspection procedures or resolution of safety concerns.
The last time the FAA lowered the country's safety categorisation, the downgrade lasted "about six months", Delta's Hauenstein adds.
In addition to Mexico, other countries with the "Category 2" designation include Bangladesh, Curacao, Malaysia, Pakistan, Thailand, Venezuela and a collection of Caribbean island states which sit under the Eastern Caribbean Civil Aviation Authority.
According to Cirium data, Mexican carriers Volaris, VivaAerobus, Aeromar and Aeromexico fly to the USA.
Nine US carriers – American, Frontier, United, Sun Country Airlines, Spirit Airlines, Southwest Airlines, Alaska Airlines and JetBlue Airways – fly to Mexico.