Virgin Atlantic will resume daily services to Shanghai from the start of May, marking the last of its pre-pandemic network the carrier is restoring.
The UK carrier last operated its London Heathrow-Shanghai route in December 2020, having initially resumed the service in June that year after the pandemic had prompted the long-haul operator to temporarily suspend flights.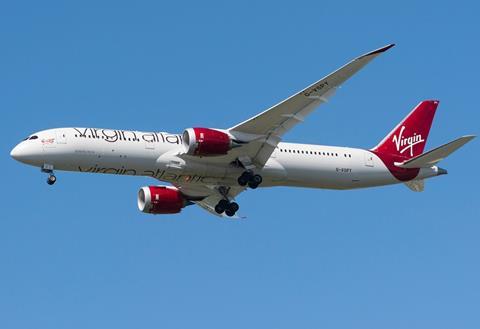 Virgin's restoration of the route, on which it will deploy Boeing 787 equipment, comes after China eased long-standing Covid travel restrictions for overseas visitors in January. Another UK carrier British Airways has also today announced plans to resume its services to Beijing and Shanghai.
Virgin Atlantic chief commercial officer Juha Jarvinen says: "The return of our Shanghai services has been a long-time coming and I'm delighted it's finally a reality. We're looking forward to welcoming our customers back on board and providing vital links to one of the UK's largest trading partners, for both passenger and cargo services."
Notably Shanghai is the primary base of SkyTeam member China Eastern Airlines, the global alliance Virgin will formerly join this year.
"Shanghai is the final route to return following the global pandemic, restoring our flying programme to full capacity," adds Jarvinen.
Virgin last year said it would not be restoring its flights to Hong Kong, and has not relaunched flights to another pre-pandemic destination, Newark. The airline though has added new services to Austin and Tampa in the USA, and Islamabad and Lahore in Pakistan, and this year adds flights to the Maldives and Turks and Caicos.
Another SkyTeam carrier, Korean Air, has also proposed offering Virgin market access as part of concessions aimed at addressing UK regulatory concerns about the competitive impact on the London-Seoul route of its planned merger with Asiana.
British Airways meanwhile will resume its daily Shanghai service from 23 April, and will restore flights to Beijing from 3 June. It will operate the latter four times a week to Beijing's Daxing airport.
BA head of sales Asia Pacific, Noella Ferns, says: "We have an incredibly rich history of flying to mainland China, having connected the two countries for more than 40 years. We look forward to resuming these routes again."
Story updated to add British Airways route restoration announcement