Virgin Altantic has formally entered SkyTeam today, joining transatlantic joint venture partners Delta Air Lines, Air France and KLM in the global alliance.
In doing so it becomes SkyTeam's first all-new member airline for eight years and its first in the UK. British Airways, a founding member of Oneworld, is the only other UK member of a global alliance; BMI had been a Star Alliance partner before being acquired by and integrated into BA.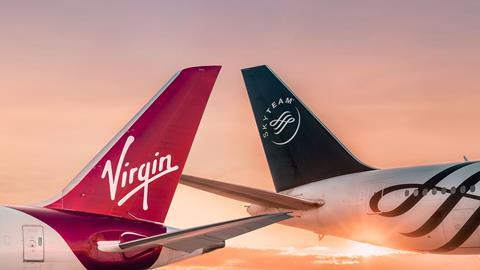 Virgin Atlantic chief executive Shai Weiss says: "SkyTeam shares a customer-first ethos that mirrors our own and our entry into the alliance today marks an important milestone in achieving our vision to become the most-loved travel company.
"Our SkyTeam membership offers this through a global network of maximised reward opportunities, alongside enhanced services on the ground and in the skies."
Alongside its joint venture with Air France-KLM and Delta – the latter holds a 49% stake in the UK carrier – Virgin already has codeshares in place with SkyTeam members Aeromexico and Middle East Airlines, and is co-located at London Heathrow's Terminal 3 with Delta, Aeromexico and another SkyTeam partner, China Eastern Airlines.
Since the pandemic Virgin operates all its London flights from Heathrow, where it has wider connectivity opportunities with its SkyTeam partners, as well flights from Manchester.
New SkyTeam chief executive Patrick Roux says: "We are delighted to welcome Virgin Atlantic into SkyTeam, taking an already close relationship to new heights and elevating our customer offering with more routes to exciting destinations and access to aspirational airport lounges – not to mention the airline's world-famous flair."
SkyTeam in late 2021 brought in ITA Airways as a member, after the carrier replaced existing SkyTeam partner Alitalia as Italy's national carrier. Virgin becomes its 19th active member. Aeroflot had its SkyTeam membership suspended last year after Russia's invasion of Ukraine.