Virgin Atlantic will begin operating routes from London Heathrow to Lahore and Islamabad and from Manchester to Islamabad in December.
The carrier is looking to take advantage of relatively resilient demand for visiting friends and relatives, and to take a slice of cargo trade between Pakistan and the UK.
Pakistan International Airlines had been operating to the UK, with services to London, Manchester and Birmingham.
But the European Union Aviation Safety Agency suspended PIA's third-country authorisation to operate to EU destinations at the end of June. Although the UK has formally withdrawn from EU membership, its civil aviation regulator currently remains required under law to ban PIA's services.
The UK Civil Aviation Authority says, however, that it approved a request in mid-August from PIA to use charter specialist HiFly to operate on behalf of the airline between Birmingham, Manchester and Islamabad.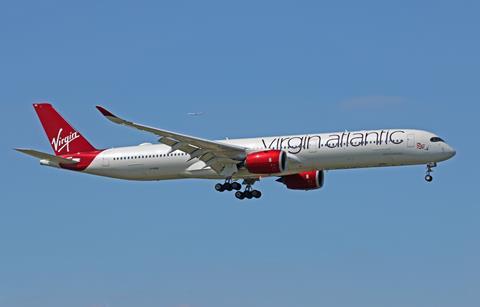 "Pakistan is an extremely exciting opportunity for us – it boasts one of the largest foreign-born populations in both the UK and the US and as people start to travel to visit loved ones, we're anticipating the demand to visit friends and relatives will increase post Covid-19," states Virgin Atlantic chief commercial officer Juha Jarvinen.
"Both Lahore and Islamabad are popular year-round destinations and we look forward to welcoming travellers onboard as demand for leisure and business travel gradually increases to the region. The growth in trade between both countries also offers great potential for our cargo customers too."
Much of Virgin Atlantic's pre-crisis schedule was focussed on US destinations, with business travellers driving revenue on several routes. However, corporate trips largely dried up in the face of the coronavirus.
The carrier has also suffered from its exclusively long-haul focus, with passengers largely eschewing intercontinental journeys.
Virgin Atlantic's flying fell by 98% in the second quarter against last year, forcing it to seek a privately-funded recapitalisation that was approved by creditors on 25 August.
Passenger flying was restarted on 20 July after a three-month hiatus. Virgin Atlantic is currently operating flights to New York JFK, Los Angeles, Hong Kong, Shanghai, Barbados and Miami, with further routes set to be added throughout September and October.
Virgin Atlantic Cargo offers freight-only flights to Atlanta, Brussels, Chicago, Delhi, Dublin, Johannesburg, Lagos, Milan, Mumbai and Tel Aviv.