The ongoing coronavirus outbreak has led Delta Air Lines to slash capacity to Japan and delay a plan to launch flights from Seoul to Manila.
The Atlanta-based carrier says it will not operate a previously-planned summer-season flight between Seattle and Osaka, and reduce weekly flights to other Japan cities.
Delta had intended to operate the Seattle-Osaka route from late March to mid-October, according to Cirium schedules data. The airline will resume the service in 2021, it says.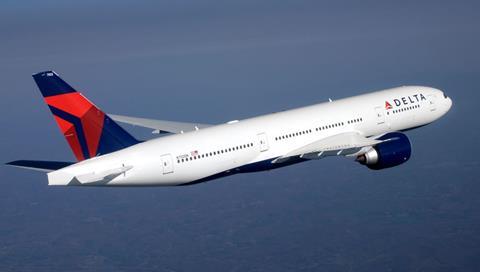 Starting 7 March, Delta will operate five times weekly on both the Atlanta-Tokyo and Minneapolis-Tokyo routes. It will operate three times weekly on the Portland-Tokyo, Detroit-Nagoya, Honolulu-Nagoya and Honolulu-Osaka routes, it says.
Those reductions are down from what would otherwise be daily flights, according to Delta.
The airline intends to continue operating daily to Tokyo from Detroit, Honolulu, Los Angeles and Seattle.
The carrier has also delayed from 29 March to 1 May the launch of a flight between Seoul and Manila.
Delta says the virus outbreak will not impact its plan to shift all its Tokyo flights from Tokyo Narita International airport to Tokyo Haneda airport on 28 March.