European carrier Volotea expects to lift seat capacity by around a third this summer compared with its pre-Covid peak in 2019, fuelled by the addition of 70 new routes.
The capacity increase would mark Volotea out as one of the few European carriers aiming to operate more capacity this summer than before the crisis.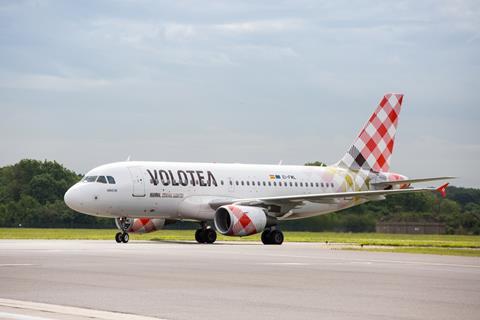 Volotea last year shifted greater focus on to domestic routes within its key market such as France, Italy and Spain, enabling it to operate more than four-fifths of its previous capacity in the third quarter of the pandemic-hit 2020. In carrying 3.8 million passengers last year, it kept the fall in volumes down to under half the 7.3 million Volotea handled in 2019.
It also brought forwards plans to replace its Boeing 717s with Airbus A320s, expanding the fleet size and seat count in the process. Volotea, which had already been operating A319s alongside its 717s, expects to operate a total fleet of 40 Airbus narrowbodies this summer. As a result, its seat capacity will be at least 30% higher than in summer 2019.
Expansion this summer includes new bases at Lyon in France and Sardinian airport Olbia, as well as its first flights to Algeria in North Africa. Cirium schedules data shows Volotea will serve seven Algerian destinations from France, mostly from Marseille.
It will nearly double the number of seats it will offer in the French and Italian domestic markets in the third quarter, compared with the same period in 2019, according to Cirium data.
Volotea seat capacity in key domestic markets
Domestic market
Seats Q3 2021
Change v Q3 2019
Source: Cirium schedules data
Italy
1,784,808
86%
France
1,088,508
87%
Spain
467,832
170%
Volotea chief executive Carlos Munoz says: "2020 was undoubtedly the most difficult year for the entire history of commercial aviation. 2021 represents a fundamental challenge, which we are facing with renewed optimism, thanks also to a vaccination campaign that continues to proceed at excellent rates throughout Europe. The elimination of travel restrictions will be a key element."