WestJet intends to restore flights to several cities in eastern Canada in late June, a move meaning the company would again be flying to all the cities in Canada that it served before the pandemic.
The Calgary-based airline says its planned network additions remain subject to factors related to public health and government Covid-19-related policies.
WestJet also intends to expand its international flying this summer, though it needs the Canadian government to lift a rule requiring travellers arriving in Canada quarantine in "government-authorised" hotels.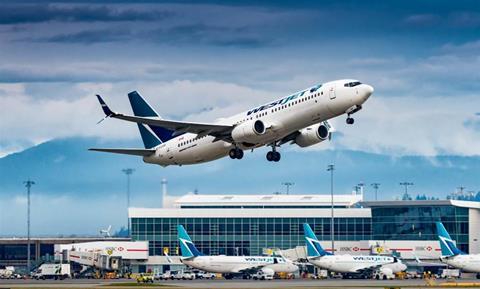 From 24-30 June, WestJet will resume flights to Charlottetown, Fredericton, Moncton, Sydney and Quebec City, the airline says on 24 March.
WestJet had suspended flights to those destinations in November 2020.
The airline will also resume St John's-Toronto flights on 24 June, and has moved forward the scheduled resumption of St Johns-Halifax flights from 24 June to 6 May.
"The reinstatement of service will restore WestJet's complete network of pre-Covid-19 domestic airports," the carrier says.
But WestJet notes that resuming flights requires "investment". For that reason, "the airline will continue to encourage the Atlantic premiers to advance their efforts to ensure the region is open to Canadians this summer", WestJet says.
"We ask that federal and provincial governments work with us to provide clarity and certainty to Canadians, including travel policies that support economic recovery and restore jobs," adds chief executive Ed Sims.
The airline's director of government relations Andrew Gibbons also cautions that conditions remain fluid.
"We are cautiously optimistic, because of the realities in those provinces," he says. "Our plan, that comes into effect in late June, is reflective of that environment."
The service resumption will result in WestJet hiring some airport staff, but the move will not require the airline to bring back pilots, the carrier's chief commercial officer John Weatherill says.
He notes WestJet also plans to resume some transatlantic flights in the coming months. The airline's schedule includes flights to London Gatwick starting in late May, following by flights to Barcelona, Dublin, Paris and Rome in June.
But WestJet needs the Canadian government to eliminate its hotel-stay requirement, says Gibbons.
"The current hotel policy is a deterrent to travel and is… designed to dampen demand," he says. "That is our requirement and our expectation of the government – that we successfully transition from that hotel policy on May 1, to allow greater international connectivity."
Canada currently mandates taht travellers, upon arriving in Canada, stay at a government-approved hotel for at least three nights and undergo coronavirus testing. If the test is negative, they may complete the remaining 14-day isolation requirement at home.