Canadian airline WestJet looks poised to launch flights between Calgary and Dubai beginning in March 2023, after securing required landing slots at Dubai International airport.
The flights would be the first WestJet routes to the Middle East, and the first to connect the two cities non-stop.
According to slot coordinator Airport Coordination Limited's (ACL) Dubai International airport summer 2023 initial coordination report, dated 4 November, WestJet has been allocated 186 slots for the 31-week summer travel season which begins on 27 March. It initially requested more than double that number.
WestJet is listed in the report as a "new operator" to Dubai International airport.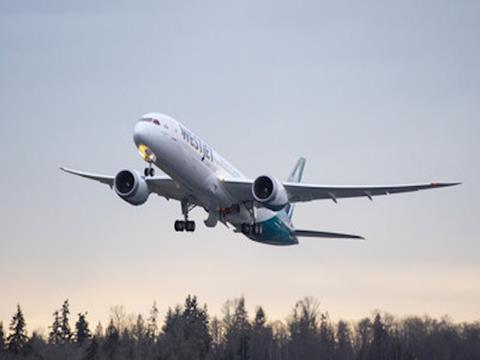 The passenger data reveal that WestJet has been granted permission to carry a total 59,520 seats. It will operate the route with its 320-passenger Boeing 787 Dreamliner – the only widebody long-haul aircraft in its fleet. That means the slots granted to WestJet would be sufficient for the airline to operate the route three times weekly.
When contacted for comment, WestJet did not confirm or deny the new route.
"We are constantly evaluating our network but have no new destinations or network updates to announce at this time," the airline said.
WestJet in early September received the last of seven Dreamliners in its originally 10-strong order. Chief executive Alexis von Hoensbroech, who arrived in the post in February, told FlightGlobal that the carrier was pulling back on long-haul flying as part of a new strategy.
"It's not the strategic goal for WestJet to be a widebody operator. It's an opportunistic business and we do it as long as it makes sense," he said in August.
In October, the airline announced it would base all seven jets at its Calgary hub as a part of the strategy shift, with plans to double capacity in the city by the end of the decade.
WestJet competitor Air Canada earlier this year said it plans to codeshare with Dubai-based Emirates Airline, under which the Montreal-based carrier intends to sell tickets on "key" Emirates flights, for example to Dubai. The deal is designed to give Air Canada's customers "options" when travelling to Dubai and beyond, such as to India. The company said under the agreement, "select Air Canada flights" would also carry Emirates' code, without saying which ones.
According to Cirium schedules data, Emirates, Etihad Airways and Air Canada are the only carriers currently connecting Canada and the United Arab Emirates. Emirates and Air Canada operate the Toronto-Dubai route five times a week each, and Etihad flies from Toronto to Abu Dhabi six times weekly.
Further ACL data indicates that WestJet may also begin to operate flights between Calgary and Edinburgh, Scotland for the summer 2023 travel season. The airline currently operates a daily flight between Calgary and London Heathrow, according to Cirium.