Canada's WestJet published an expanded timetable with 90 new connections between its Calgary hub and numerous other domestic and international destinations beginning in the summer travel season.
New routes include a daily flight from Calgary to Boston beginning 14 May, and from Calgary to Dawson Creek, British Colombia which will begin 26 April. WestJet will fly to Rome three times every week beginning 2 May and expand service to Paris from four times weekly to six times weekly, the Calgary-based airline says 10 February.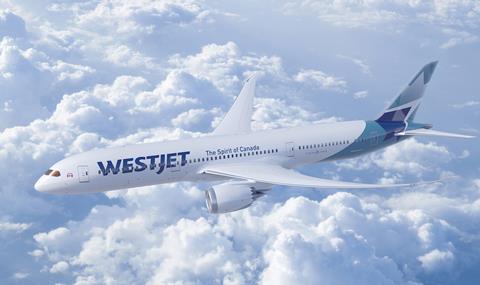 Flights to Mexico's Cabo San Lucas will go from twice-weekly to thrice-weekly, and Portland, Oregon will be served twice daily from its current single daily flight.
"WestJet is focused on investing in Alberta to build and strengthen our Calgary hub," says Arved von zur Muehlen, chief commercial officer of the Calgary-based airline. "As WestJet continues on its strategic path of becoming a global network airline, we are pleased to offer our guests the ability to conveniently connect for business or pleasure across Canada, Europe and beyond this summer."
Included in the new schedule is expanded service to numerous western Canadian cities such as Victoria, Nanaimo, Grand Prairie, Fort McMurray, Winnipeg and Yellowknife. The increase for this year's peak travel season will bring the number of weekly WestJet departures from Calgary to over 1,000.

According to Cirium fleets data, WestJet operates an all-Boeing fleet of 103 737NG aircraft, four 767s and four 787 Dreamliner aircraft with six more on order. In addition, it has 13 737 Max aircraft which have been grounded since March 2019, and another 44 on order.
WestJet also says it has added more than 300 Dreamliner departures from Calgary to key transatlantic destinations during the year, an increase of more than 50% over last year.
In December, Toronto-based Onex Corporation completed its buyout of WestJet for C$5 billion ($3.8 billion) including the carrier's debt following final regulatory approval of the deal by the Canadian Transportation Agency.