Canadian airline WestJet will base all seven of its Boeing 787-9s at its Calgary hub as a part of a strategy shift which will see the carrier double its capacity in the city by the end of the decade.
The 5 October announcement comes in the context of a partnership between the airline and its home province of Alberta.
The airline says that it will "invest aircraft capacity, with an asset value in excess of seven billion dollars, in Calgary alone, through significant fleet commitments to be based within the province".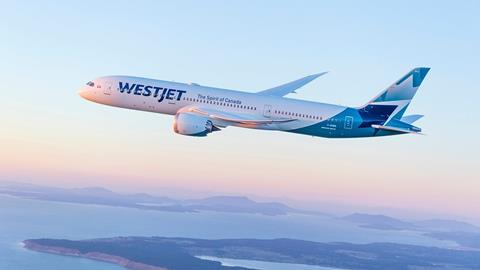 "WestJet will designate [Calgary] as its single global connecting hub and will concentrate all intercontinental 787 Dreamliner flying in Calgary, unlocking opportunity for new routes within North America, to Europe, with the potential to reach Asia," the company adds.
In August, WestJet chief executive Alexis von Hoensbroech told FlightGlobal that the carrier would be pulling back on its international network, and bringing all widebody aircraft to the western part of the country as part of a new strategic shift. However, he did not specify to which city.
Asked about Asia routes, he responded at the time, "That's certainly something we will look at, yes."
The shift west promises to make Calgary "North America's most connected mid-sized city", von Hoensbroech now says.
WestJet had initially placed orders for 10 of the widebody aircraft, but cut that order by three earlier this year. The airline's final airframe was delivered to Calgary in early September. Von Hoensbroech noted in August that it was not WestJet's strategic goal to be a widebody operator. "It's an opportunistic business and we do it as long as it makes sense," he said.
Von Hoensbroech took the reins of Canada's second-largest airline in February, and spent his first hundred days reviewing the firm's post-Covid strategy. The result was a three-part pivot that he says will return WestJet to the successes of its past.
The first pillar is to focus on building network strength in the western half – from Winnipeg to the Pacific Ocean – of the second-largest country on earth. The second is a renewed focus on leisure travel, supported by the acquisition of low-cost vacation specialist Sunwing Airlines, along with its tour operator business. Third, he's intent on returning the carrier to its low-cost origins.
Last week WestJet ordered 42 Boeing 737 Max 10s, with options for 22 more. The aircraft are scheduled to be delivered through 2028. In addition to 23 existing 737 Max orders, WestJet is now expecting to accept delivery of at least 65 aircraft in the next six years, of which at least 50 of those will be 737 Max 10s.