Low-cost carrier Wizz Air has announced a string of new routes between Europe and Saudi Arabia as it seeks to play its part in the kingdom's ambitions to expand its aviation sector.
The development comes after Wizz signed a preliminary agreement with Saudi Arabian authorities in May to investigate the widening of airline services to the kingdom under the state's Vision 2030 programme.
Augmenting already announced services from Rome and Vienna to Dammam, which are due to start in September alongside a Wizz Air Abu Dhabi service to the city, Wizz plans begin operating a further 20 routes to Saudi Arabia from later this year.
Launching from December through to July 2023, they feature flights from Bucharest, Budapest, Catania, Larnaca, Milan, Naples, Rome, Sofia, Tirana, Venice and Vienna, variously to some or all of Dammam, Jeddah and Riyadh.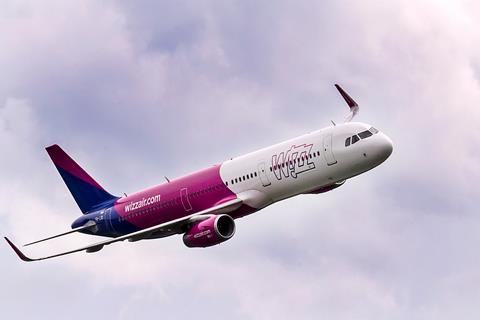 The majority of the services will be either once- or twice-weekly, with only Vienna-Riyadh operated thrice-weekly.
Wizz Air estimates that the newly announced flights will bring an additional 1 million passengers to Saudi Arabia in 2023.
"I see the kingdom as a long-term strategic market for Wizz Air, where we will continue to innovate and carry the flag of low-cost flying for the benefit of Saudi residents and visitors as well as the country's diversifying economy," says the airline's chief executive Jozsef Varadi.
Moreover, the Wizz chief told Reuters on 25 August that the airline is considering applying for an AOC to base an operation in Saudi Arabia.
Cirium schedules data shows that flag carrier Saudia and local budget carrier Flynas are operating the vast majority of the kingdom's connections with Europe this year. Data also reflects Saudi Arabia's strong connections to Turkey, with Turkish Airlines and Pegasus offering a range of routes.
Saudi Arabia's Vision 2030 programme covers the kingdom's entire economy and is aimed it shifting its focus towards non-oil revenues in the coming years.
It outlines ambitions to create a new global aviation hub in the country, and its targets include the tripling of passenger numbers by 2030, the potential establishment of a new flag carrier and construction of a 'mega airport' in Riyadh.