Expanding low-cost carrier Wizz Air has further outlined its intent to grow at London Gatwick airport after announcing plans for a single-aircraft base and the launch of four new routes from October.
In detailing plans to open a base at Doncaster Sheffield, Wizz Air UK managing director Owain Jones told FlightGlobal earlier this month that the airline was interested in expanding at Gatwick in a "meaningful way".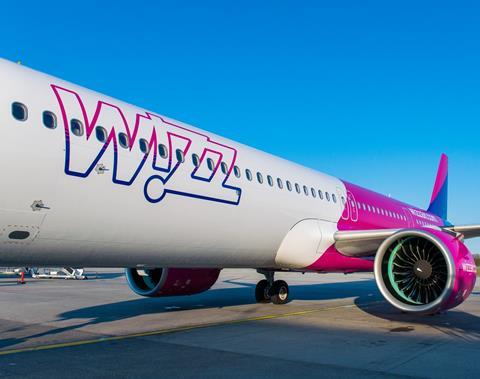 It has now detailed plans to base one Airbus A321 at Gatwick and to launch routes to leisure destinations Athens, Naples, Lanzarote and Malta from 22 October. Wizz will serve Athens and Naples four times a week, while Lanzarote and Malta will have three weekly rotations.
Notably the carrier will be competing directly with low-cost rival EasyJet, which operates on all four routes, Cirium schedules data for August shows. TUI Airways also serves Lanzarote and Naples from Gatwick.
Wizz, which already has a strong operation at Luton airport in North London, launched its first operations from Gatwick in 2016. Cirium schedules data shows it operating five routes from the south London airport in August, all connecting to central and eastern European destinations: Bucharest, Budapest, Sofia and the Polish cities of Gdansk and Krakow.
The Central European carrier established a UK subsidiary in 2018 operating under its own AOC in part as a contingency to ensure it could continue operating after the UK leaves the European Union, but also to expand its reach in the UK market.
Jones says: "Already the fourth largest airline group operating in the UK, today's announcement of our new Gatwick base and four new routes reinforces Wizz Air UK's position as a British airline that is growing, creating new jobs, bringing much-needed connectivity to the UK and so helping the economy get back in the air."
The airline has in recent weeks been vocal in calling for the ending of the waiver to existing slot rules, which have temporarily been relaxed to help airlines counter the sharp drop in air travel demand as a result of the global pandemic. Wizz argues these rules mean a number of slots at Gatwick are being blocked to new entrants as a result.
Wizz, which was already one of Europe's fastest growing carriers before the crisis, has been the most aggressive in expanding since the easing of travel restrictions within Europe.
The carrier's base announcement at Gatwick is a positive development for the airport, after British Airways and Virgin Atlantic both moved to concentrate their operations at Heathrow airport during the crisis.
Stewart Wingate, the airport's chief executive, says: "This is encouraging news for Gatwick, particularly at a time when the industry has been so negatively impacted by Covid-19. Having a new aircraft based at Gatwick underpins the resilience of our business for the long term and ensures we continue to offer our passengers great choice.
"This is a welcome indication of the positive conversations we are having with airlines – both existing and new – about securing Gatwick's future."