Central European budget carrier Wizz Air has continued its post-crisis base expansion by disclosing plans to open a single-aircraft operation from St Petersburg's Pulkovo airport.
The new St Petersburg base, the airline's first in Russia, will begin in mid-September with the launch of five new routes.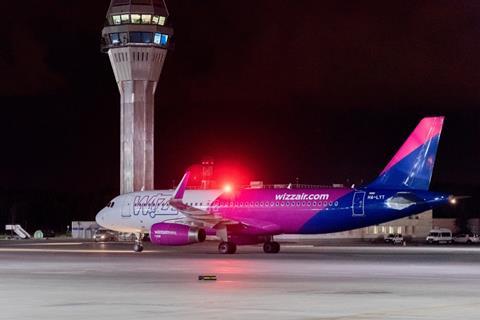 It will be the airline's 32nd base - and the fifth Wizz has announced in the past three weeks - as it steps up its post-crisis network plans
Wizz will base one Airbus A320 at St Petersburg and launch new routes from the airport serving the Scandinavian capitals of Copenhagen, Oslo and Stockholm, as well Malta and Salzburg in Austria.
"Wizz Air has a long-term strategic interest in the Russian market and we are looking forward to welcoming passengers on board our young and reliable fleet," says airline chief executive Jozsef Varadi.
St Petersburg, from which Wizz operated flights to Budapest and London Luton prior to the coronavirus crisis, is one of the three Russian destinations Wizz serves, alongside Moscow Vnukovo and Kazan.
The new routes are being operated under seventh freedom traffic rights, in force since the start of the year, aimed at developing low-cost carrier growth at the airport. These rights enable carriers to serve two foreign countries without serving their home market.
Wizz operated only 6% of its original scheduled capacity in May due to widespread travel restrictions, but has made a series of base announcements in recent weeks as it signals its intent to stay on the front foot post-crisis.
It has already announced plans to launch bases at Larnaca, Lviv, Milan Malpensa and Tirana. That includes a five-aircraft base - and 20 new routes - at Malpensa, an airport at which low-cost rivals EasyJet and Ryanair already have strong operations, and a three aircraft operation at Tirana in Albania.
The airline also yesterday announced nine new routes from Belgrade from the start of August, including a service to Malpensa, while plans for its new Abu Dhabi-operation have also been confirmed.
"We are reviewing our aircraft allocation and will react to the new market reality by taking advantage of opportunities across Europe as other carriers withdraw capacity," Wizz said earlier in June, in releasing outlook for its new financial year ending March 2021.
"Despite difficult conditions, we expect to grow the number of seats by roughly 9 per cent compared to 2020, in line with the growth of the fleet to 131 aircraft by March 2021," the airline says. That though is seven fewer aircraft than the 138 outlined in its pre-crisis strategy, disclosed at the end of January during a third-quarter results briefing.