Japanese start-up Zipair Tokyo will begin passenger flights to Seoul Incheon on 16 October after a planned earlier launch was delayed by the Covid-19 crisis.
The South Korean capital will be served twice weekly from Tokyo Narita, says the Japan Airlines (JAL) low-cost subsidiary.
It says it will be the only Japanese carrier to connect the two cities, but notes that the schedule awaits government approval.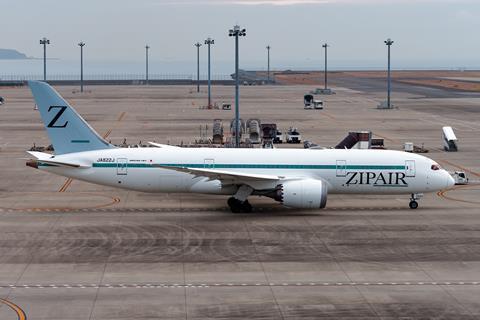 Established in 2018, Zipair Tokyo had planned to launch passenger flights in May, serving Bangkok first and then Seoul from July. Instead, the carrier began cargo flights to Seoul from Narita on 12 September.
"Due to the impact of the new coronavirus infection, we were forced to postpone the launch of our passenger flights," states the airline's president Shingo Nishida. "We had more time to prepare for the start of passenger flights than we had originally planned".
In February, Nishida said the airline aimed to establish a "new basic" class of medium- to long-haul airlines, sitting between the low-cost and full-service categories that have the aviation industry "polarised". There are plans to operate transpacific routes.
Two Boeing 787-8s have been transferred to Zipair Tokyo from its parent. The aircraft are configured with 18 Jamco-supplied full-flat business seats and 272 economy seats from Recaro.
Like JAL aircraft, Zipair Tokyo's 787s have been fitted with Panasonic wi-fi equipment. "By making the most of in-flight wi-fi services provided by Panasonic Avionics, we hope to become an airline that gives customers the freedom to spend time on the plane in their own personal way and that makes flight time feel short," states Nishida.