Long-haul European discounter Norse Atlantic Airways plans to expand further in the coming months with flights from London's Gatwick airport to another four US cities.
On 1 June, the airline plans to launch six-times weekly flights from Gatwick to Washington-Dulles International airport, followed on 30 June with daily flights from London to Los Angeles, the carrier says on 28 February.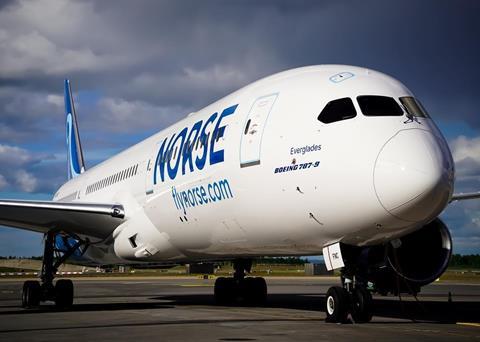 Then on 1 July, Norse will begin three-times weekly flights between London and San Francisco. It intends to start five-times weekly flights from London to Boston on 2 September.
"We have made a significant investment in our UK airline… I am very pleased that we are fulfilling our pledge to create competition in the transatlantic market that will benefit consumers, stimulate business travel and lead to job creation," says Norse chief executive Bjorn Tore Larsen.
Norse faces significant competition on the four new routes, including from American Airlines, British Airways, Delta Air Lines, JetBlue Airways, United Airlines and Virgin Atlantic Airways, Cirium data shows. Those carriers mostly serve the routes from London Heathrow, not Gatwick.
The news comes two weeks after Norse revealed plans to begin flights from London Gatwick to the US cities of Orlando and Fort Lauderdale, on 25 and 26 May, respectively.
The airline already flies from London-Gatwick to New York's John F Kennedy International airport. Its other transatlantic routes include those from Oslo and Berlin to cities including Fort Lauderdale, Los Angeles and New York.
Norse arose following the demise of Norwegian Air. It operates six Boeing 787-9s and has another two of the type in storage, according to Cirium fleets data.