Air Canada has ordered another 15 Airbus A220-300s in a deal that brings the Montreal-based carrier's total orders for the Canadian-built type to 60 jets.
"This expanded order for the A220, built up the road from our Montreal headquarters, is an important development in the modernisation of our fleet and a clear indication that we are emerging from the pandemic solidly positioned," Air Canada said on 26 October.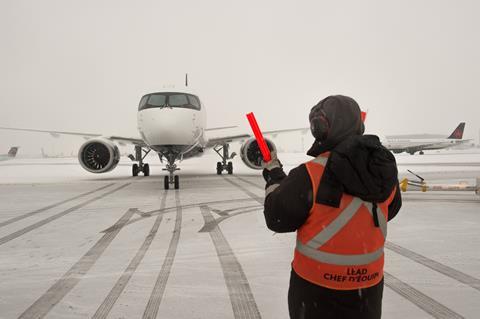 Air Canada has been an anchor customer for the A220, the smallest airliner family in the manufacturer's line-up.
The new deal builds on a 2016 order by Air Canada for 45 of the Pratt & Whitney PW1500G-powered A220-300s, which carry about 140 passengers. At that time, it also took options to buy a further 30 A220s.
Its first A220-300 entered service in January 2020, making the carrier North America's first operator of the type. It now flies 31 examples. Air Canada anticipates receiving two more of the jets in 2022 and six each in 2024 and 2025, followed by the 15 newly ordered A220s in 2026.
"This Canadian-designed and built aircraft has positively contributed to opening new routes as well as to making strides in reaching ambitious environmental goals for Air Canada – thanks to its unmatched efficiency," says Airbus Canada chief executive Benoit Schultz.
Airbus manufactures the jet in Mirabel, Canada and in Mobile, Alabama. In 2018, Airbus acquired majority ownership the A220 programme – then called the CSeries – from Bombardier, which had struggled under the financial weight of the development effort.
Airbus has logged orders for around 800 of the two A220 variants – the -100 and larger -300 – from more than 25 customers, of which it has delivered 227 aircraft, the manufacturer's data shows.
Airbus is now producing six A220s monthly and plans to hike production to 14 aircraft per month in the middle of this decade, it says.