Air Canada has taken delivery of its first Airbus A220, placing the Montreal-based carrier on track to launch its first A220 revenue flights in January.
Airbus announced the delivery, the first of 45 A220-300s destined for Air Canada, and released a photograph of the aircraft.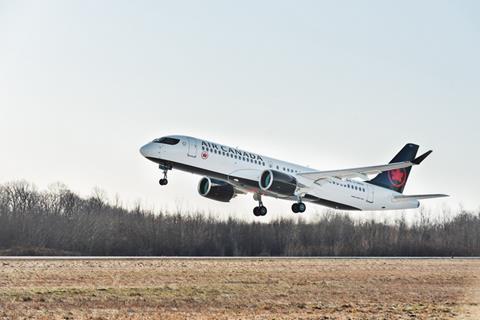 Air Canada will begin A220 revenue flights on 16 January between Calgary and Montreal, followed on 19 January between Montreal and Toronto, according to Cirium schedules data.
The airline's A220s will be outfitted with 137 seats, including 12 business-class and 125 economy-class seats, says Airbus.
"This is a highly anticipated moment for Air Canada as we welcome this game-changing aircraft into our fleet," the release says. "The A220 will enable Air Canada to strengthen our position on trans-border and transcontinental markets and will be key to our continued growth."
With a published 3,350nm (6,200km) range, the Pratt & Whitney PW1500G-powered A220-300 will have transcontinental capability.
Air Canada intends to deploy it on routes such as Montreal-Seattle and Toronto-San Jose, says the release.
Air Canada is the first Canadian airline to receive an A220 and the only Canadian airline with A220s on order, according to Cirium fleet data.
The Montreal-based airline plans to formally unveil its first A220 at a ceremony in Montreal on 15 January.