Boeing received new orders for six 767 Freighters in May, though the company's aircraft backlog declined by 90 jets in the month due largely to order cancellations and other negative adjustments.
The cancellations included 14 737 Max that had been ordered by several lessors and unidentified customers.
The results reflect another month hampered by the industry downturn spurred by coronavirus, which has deflated new-aircraft demand and hindered carriers' ability to take delivery of newly-produced jets.
Boeing delivered four aircraft in May.
The airframer actually logged nine new aircraft orders in the month, though three of those orders were transferred between customers and had already been in Boeing's backlog.
The six new 767Fs orders in May include one aircraft added by longtime 767-operator FedEx and five jets ordered by a customer or customers that remain unnamed.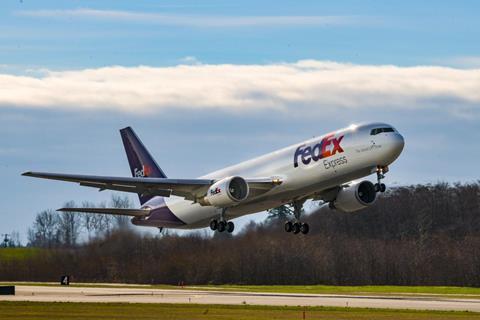 Those 767F orders bring Boeing's backlog of that type to 91 jets – enough to maintain about 2.5 years of production at Boeing's current three-767-monthly production rate.
The other three new orders included one 747-8F ordered by UPS and two 777Fs ordered by unidentified buyers.
Those three jets were already in Boeing's backlog, assigned to Russian cargo company Volga-Dnepr's UK affiliate, Volga-Dnepr UK. Boeing resold them after Volga-Dnepr UK signalled its inability to take deliveries due to the coronavirus downturn, according to court papers. Volga-Dnepr UK, which later reversed course and sought to take deliveries, asked a judge this month to block Boeing's resales. A judge denied the request.
In transferring the single 747-8F from Volga-Dnepr to UPS, Boeing also removed one 747-8F from UPS's existing backlog, for zero impact on UPS's backlog, it says. UPS holds 13 outstanding 747-8F orders, according to Cirium fleets data.
The 14 737 Max cancellations included three aircraft ordered by Aviation Capital Group, one ordered by CIT Aerospace, four ordered by GE Capital Aviation Services and six jets ordered by unidentified customers.
Since the start of 2020, Boeing has received orders for 58 jets, but cancellations and conversions bring the figure to negative 264.
Boeing removed 77 other aircraft from its backlog in May to meet accounting standards. Those aircraft remain under sales contracts but Boeing, based on factors such as market conditions, credit availability and customers' financial health, has less confidence the sales will close.
As a result, Boeing's backlog stood at 4,744 aircraft at the end of May, including 3,776 737s, 13 747s, 91 767s, 355 777s and 509 787s, the company says.
The backlog is down from 4,834 jets at the end of April.
The four jets Boeing delivered in May included one 737NG-based maritime surveillance jet, one 767F and two 777Fs.
The low delivery figure reflects the coronavirus downturn, which has reduced demand for new jets. Related travel restrictions have made receiving aircraft logistically challenging for some airlines, resulting in rescheduled deliveries, Boeing says.