Boeing has not yet received firm 787 orders from China Airlines despite the carrier saying yesterday it had purchased the jets.
The US airframer says its August order figures, to be released on 13 September, will not include 787s for China Airlines because that deal is not finalised.
On 30 August, the Taiwan-based carrier "announced the purchase of 16 Boeing 787-9 passenger aircraft". It also called the deal an "order", though Boeing does not consider it such.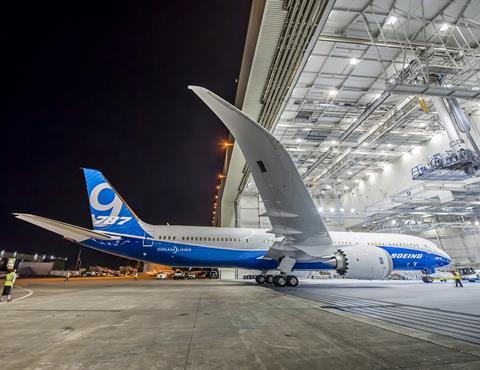 "We are pleased that China Airlines has selected the 787 Dreamliner to modernise their world-class fleet and look forward to working with the airline to finalise the order," Boeing tells FlightGlobal.
China Airlines said it expects to begin receiving 787-9s in 2025. It will make the type "the mainstay of [its] medium-capacity widebody fleet", using them to replace Airbus A330s.
"The order included options for eight more aircraft, as well as conversion to the high-capacity 787-10," China Airlines said. "The exceptional fuel efficiency of the 787-9 means fuel consumption and carbon emissions are approximately 20% lower than the previous model."
Though Boeing says the deal remains pending, the carrier's intention to acquire the Boeing jets throws more momentum behind the 787 programme just weeks after Boeing made major headway by resuming 787 deliveries.
Boeing had halted deliveries for most of the last 22 months to address a quality problem involving gaps between the type's carbon-fibre fuselage sections.
But on 10 August, American Airlines said it had taken delivery of a 787-8, and the carrier has since acquired another 787-8, according to Cirium data.
However, Boeing clarifies that those aircraft will also not be logged as deliveries in its August figures because the jets remain in Boeing's possession pending completion of post-delivery work specified by American.
The work is being completed in Victorville, California and does not relate to the 787's fuselage issue, Boeing adds. It confirms the jets are certificated and have been purchased.
American says "the aircraft are currently undergoing induction work at Boeing Global Services in Victorville".
That work includes "wi-fi installation and an induction process where our unique placards and equipment are installed. Once that process is complete, the aircraft is available for revenue service," American adds. "We consider these aircraft delivered as we accepted the title to these aircraft and have the financing in place".
American sold the jets to lessor BOC Aviation, which is leasing them back to American, according to BOC and Cirium fleets data.
On 29 August, Lufthansa also said it had taken delivery of its first 787-9 from Boeing. Lufthansa has already flown that jet to its Frankfurt hub.
China Airlines also operates 777 Freighters, 777-300ERs, 747-400Fs, 737NGs, A350s and A321neos, Cirium fleets data shows.