JetBlue Airways has taken delivery of its first Airbus A220-300, built in the European airframer's Mobile, Alabama facility.
The aircraft, with the tail number N3008J, will arrive at the carrier's New York's John F Kennedy International airport home base, later in the day, the airline says on 31 December.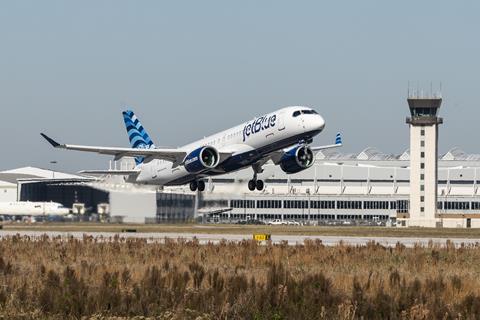 It's the first of 70 of the type that the airline has ordered from Airbus, which are due to replace the airline's 60 Embraer 190 aircraft in the coming years, JetBlue says.
The A220-300, formerly the Bombardier CSeries, is more reliable, more fuel efficient and has lower per-seat costs than the E190, the airline adds. Its range of 3,350nm (6,204km) will enhance the airline's flexibility, allowing it to fly new routes more economically than the older aircraft. The type is also a key part of JetBlue's sustainability ambitions.
"As we evolve our fleet for the future, the A220's significant reduction in per-seat emissions supports our ongoing commitment to carbon neutrality for all our domestic flights, and moves us closer to achieving our pledge of net zero carbon emissions across all operations by 2040," says Robin Hayes, the airline's chief executive.
Earlier this month, the low-cost carrier launched a major expansion to southern sun destinations - including four new airports - in a broad effort to snag more of the vacation market from its competitors as the air travel industry slowly climbs out of its coronavirus-driven hibernation.
The 24 new routes are part of an aggressive plan to capitalise on the expected increase in leisure travel following an almost year-long crisis in the industry due to the global pandemic.
The carrier reported a $393 million loss for the third quarter of the year and said that by the end of 2020 it planned 45% less capacity from 2019 levels, as a patchwork of travel restrictions - including ongoing quarantine requirements - continue to make planning a trip difficult and complex.