Southwest Airlines, among the world's top Boeing 737 Max customers, has pushed back deliveries of 59 Max aircraft in response to the travel downturn caused by the coronavirus pandemic.
Between now and the end of 2021, Southwest expects to receive from Boeing a maximum of 48 737 Max airliners, the carrier says on 28 April.
Previously, Southwest anticipated receiving 107 Max jets from Boeing in 2020 and 2021, including 62 aircraft that had been scheduled for delivery in 2020 and 45 scheduled for 2021, a securities filing shows.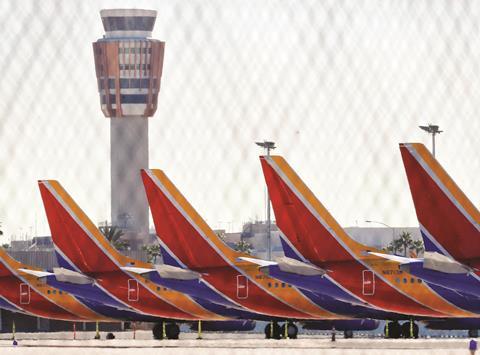 The airline provides few details about how many 737 Max aircraft it intends to acquire in 2020 and 2021, other than saying it expects to receive less than 27 jets from Boeing this year.
Those 27 737 Max are aircraft Boeing manufactured for Southwest after regulators grounded the type in March 2019. Boeing continued manufacturing the jets after the grounding, storing the airliners until the grounding lifts.
Southwest is "still working on specifics of how many we want to take between now and the end of the year," chief financial officer Tammy Romo says, during Southwest's first-quarter earnings call on 28 April. "We have fleet flexibility."
Separately, in 2020 Southwest intends to receive 16 737 Max aircraft from non-Boeing owners – meaning lessors, its latest fleet plan shows.
News of the deferrals came the day Southwest reported a first-quarter loss of $94 million, reflecting the collapse of travel demand during the pandemic.
In recent weeks the airline has grounded about 350 of its 742 737s. Those grounded jets exclude 34 737 Max that Southwest received before the 2019 grounding and that have since been stored.
The US low-cost carrier holds unfilled orders for 262 737 Max, more than any named customer, according to Cirium fleets data. Boeing's backlog also includes 721 Max ordered by unnamed customers.
While some Max customers have cancelled orders in recent weeks, Romo says Southwest still prefers to take new jets.
"Our preference is to get new airplanes from Boeing," she says.
Romo adds that Max's 14% fuel savings (compared to 737NGs) "is still very meaningful and significant" despite tumbling fuel prices, which have eroded the financial value of efficiency.
Southwest's first-quarter operating revenue sank 19% year-on-year, while operating expenses dipped 6.5%, it reports.
The airline is among US carriers intending to receive financial assistance through the US government's pandemic relief package.
Southwest expects to receive $3.2 billion in funds earmarked to pay employee wages. Also, this week it will apply for $2.8 billion in government loans, but the airline says it has until September to decide whether to take the money.
Executives suggest they may seek to avoid taking government loans if Southwest can secure sufficient financing elsewhere.
"It carries a lot of conditions," Southwest chief executive Gary Kelly says of the government loan programme. "We can't pay dividends during the time that the loan is outstanding, plus a year. Can't do any share repurchases."
The loan programme also places restrictions on executive compensation, which is "just another restriction on the company's ability to manage", he says.
Also on 28 April Southwest announced it intends to raise $1 billion through a bond issue and some $1.6 billion through a share offering.