Airbus has closed its sole final assembly line in China, as the novel coronavirus outbreak continues its spread in and out of the country.
The airframer says the Tianjin final assembly line, which produces A320-family aircraft, is currently closed. Airbus did not say when it intended to reopen the facility.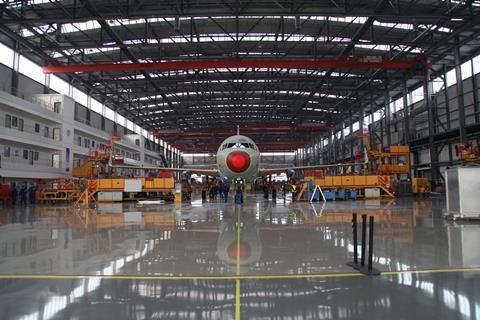 The Tianjin facility is one of four A320 final assembly lines around the world, and the only one in Asia.
It began operations in 2008, and was the first final assembly line Airbus opened outside of Europe. Tianjin is also home to an A330 completion and delivery centre and a logistics centre, states Airbus.
"With regards to the business impact, China domestic and worldwide travel restrictions are posing some logistical challenges," says Airbus, without elaborating.
Globally, a growing list of countries – such as Singapore, Australia and the United States – have imposed travel restrictions on individuals who have visited China recently.
In China, several cities - such as Wuhan, where the outbreak is thought to have originated - are currently on lockdown in a bid to curb the spread of the virus.
The airframer says it is monitoring the situation closely, and that its China unit is following government requirements for all staff to work from home, and is facilitating this with the necessary IT equipment. Airbus employs about 500 people in Tianjin.
It adds: "Airbus is constantly evaluating the situation and monitoring any potential knock-on effects to production and deliveries and will try to mitigate via alternative plans where necessary."
Airbus's comment is the first response from a major airframer in recent days to the coronavirus outbreak, which has claimed close to 500 lives.