Turboprop manufacturer ATR has completed the design phase and is preparing to begin production of the short take-off and landing (STOL) version of the ATR 42-600 under a revised schedule.
The Toulouse-based airframer – jointly owned by Airbus and Italian aerospace group Leonardo – says that it has adjusted the ATR 42-600S's development schedule because of the pandemic.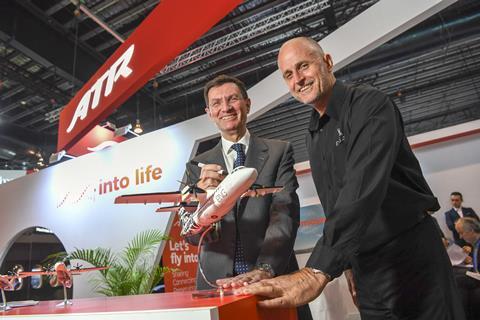 The first flight is currently planned for 2023, ATR tells Cirium, having previously planned a first delivery during the second half 2022.
ATR says that the programme's "maturity gate 7" – the point at which all critical design reviews have been completed, the aircraft's overall architecture is frozen and its performance is confirmed – was reached under the new schedule in March. "Programme partners and suppliers can start manufacturing the first parts," the airframer adds.
STOL programme manager Michelangelo Esposito states: "The STOL teams have been doing a tremendous job to make this possible. They have adapted their ways of working to the Covid-19 challenging context, working collaboratively without being able to see each other or traveling to meet our suppliers."
ATR formally launched the ATR 42-600S development in 2019 after securing commitments from turboprop specialist Elix Aviation and Air Tahiti for 10 and two aircraft, respectively. The STOL concept had previously been studied and discussed with customers for some time.
Cirium fleets data shows that ATR has since received three ATR 42-600S orders from PNG Air and commitments for another eight units from undisclosed customers.
ATR says that the STOL version will be capable of operating, under certain conditions, from 800m paved runways as opposed to the 1,050m lower limit for the standard ATR 42-600.
Principal modifications to the aircraft include a larger rudder, an option to deploy spoilers after touch-down, and an autobrake system to ensure full braking on the runway as soon as possible.
The aircraft will be powered by the Pratt & Whitney Canada PW127M engine, like the standard ATR 42-600 and ATR 72-600. But pilots will be able to select higher engine ratings for STOL operation. Take-off from short runways will be operated with a 25-degree flap setting, the airframer notes.
ATR sees the STOL variant as an opportunity to expand its market and attract orders from operators wanting to replace legacy 30-seat turboprops, and to operate from smaller airports that could previously not be served by ATRs.
The ATR 42-600 is the only Western-built 50-seat turboprop still in production today.