Boeing will suspend production at its 787 facility in North Charleston, South Carolina on 8 April "until further notice" due to the spread of coronavirus.
The move comes one day after the company extended the closure of its sites in Washington state.
Boeing is instructing North Carolina employees to work from home if possible. It is offering 10 paid days to those who cannot work from home.
After those 10 days, Boeing workers will be able to use paid time off benefits or file for state unemployment assistance, the company says.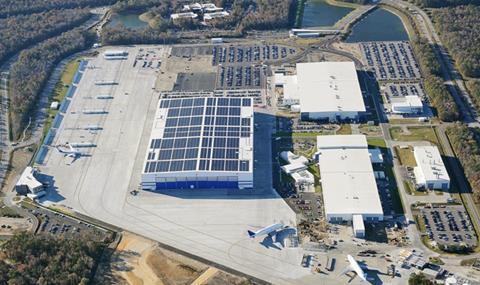 "It is our commitment to focus on the health and safety of our teammates while assessing the spread of the virus across the state, its impact on the reliability of our global supply chain and that ripple effect on the 787 programme," says Brad Zaback, Boeing vice-president and general manager of the 787 Programme and leader of the South Carolina site.
"We are working in alignment with state and local government officials and public health officials to take actions that best protect our people," he adds.
Boeing says the closure impacts its "Airport Campus, Emergent Operations, Interiors Responsibility Center South Carolina and Propulsion South Carolina".
Opened in 2011, Boeing's South Carolina site includes one of the company's two 787 assembly facilities. In South Carolina Boeing also manufactures 787 interior components such stow bins and closets, designs and assembles 737 Max engine nacelle inlets and designs 737 Max and 777X fan cowls, according to the company's website.
On 5 April, Boeing announced that its production sites in Washington State's Puget Sound region, which encompasses Seattle, and in Moses Lake, Washington, will remain closed "until further notice".
Those sites closed on 25 March for a period Boeing initially said would be two weeks.