Deutsche Aircraft has pushed back service entry of its D328eco until the second half of 2026 from a previous target of 2025.
Detailed in a newsletter summarising recent programme achievements under the heading "Steady Progress!", the delay is attributed to changes stemming from the design review process and input received from customers and suppliers.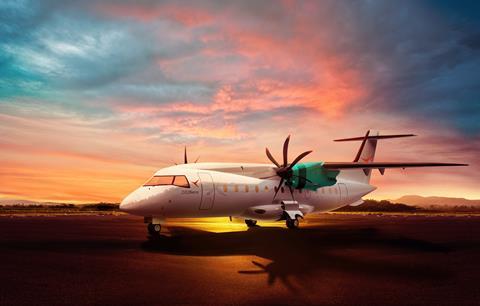 Adjustments to the aircraft design mean "we are now targeting the D328eco certification towards the second half of 2026."
A 2m (6ft 6in) stretch of the original Dornier Do 328 turboprop, the D328eco will be able to carry up to 43 passengers – 10 more than previously – and will ultimately be able to run its twin Pratt & Whitney Canada PW127S engines on 100% biofuel.
Now entering the detailed design phase, the aircraft last month passed the preliminary design review (PDR) milestone, says Deutsche Aircraft.
That followed an initial meeting of its customer advisory board, attended by "more than 10 participating companies" who provided "valuable feedback which we are integrating into the aircraft design".
Overall, the process has resulted in a "significantly enhanced product", the company says. However, it does not detail the nature of the changes to the aircraft.
In addition, "further aerodynamic studies and windtunnel testing work on the D328eco programme have been carried out", it adds.
Deutsche Aircraft is also continuing to refine the supply chain for the twin-turboprop: working with manufacturing partner Heggemann, a joint analysis concluded that "highly automated" production of the wing-spar box will be possible.
The airframer has also begun hiring staff for its new final assembly line in Leipzig. Construction at the site is expected to begin in late 2022 or early 2023.
Deutsche Aircraft has also made recent changes to its leadership team. Former Lufthansa and Bombardier executive Nico Buchholz has been appointed as chief commercial officer, while Christoph Rummele joins as vice-president of human resources.
However, the programme changes made through the PDR phase, and which are likely to continue as the D328eco progresses through the critical design review and industrialisation process, have resulted in a key departure.
While the changes are "aimed at embracing new technology opportunities and blending these into the D328eco", as a "consequence of these developments" chief technology officer Martin Nusseler is to exit the business "to explore new opportunities".

Dominic Perry is deputy editor of Flight International but also contributes extensively to flightglobal.com. Although specialising in the coverage of the helicopter industry, he has written on most topics in aerospace – be they commercial, defence or business aviation. In addition, there has been an increasing focus on the decarbonisation of the industry and zero-emission flight initiatives.