Deutsche Aircraft hopes to have a firefighting variant of its developmental D328eco twin-turboprop available by the end of 2026 as part of a new agreement with lessor ACIA Aero Leasing.
Covered by a memorandum of understanding, the pact will see the pair collaborate on marketing of the D328eco in "passenger, multi-role, and firefighting aircraft configurations".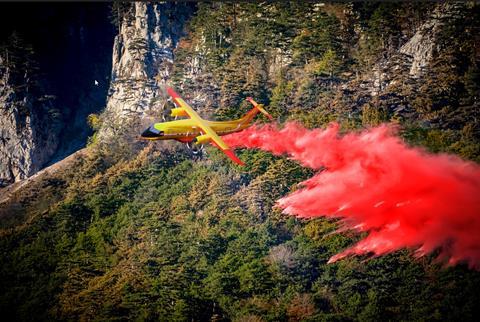 In addition, the companies will also market the earlier Dornier 328 for the same roles. The D328eco is a stretched and re-engined version of that aircraft.
Deutsche Aircraft sees the firefighting variant as a multi-role aircraft, capable of carrying passengers or performing water-bombing missions.
Details of the variant, including development partners, have not been disclosed, but the manufacturer says the D328eco will be capable of carrying 4,000 litres (1,060 USgal) of water or fire retardant.
Service entry of the variant is anticipated "at the end of 2026 [or the] beginning of 2027" says Deutsche Aircraft; service entry for the baseline passenger model is foreseen in the second half of 2026.
Under the agreement, ACIA will become a "preferred lessor" of Deutsche Aircraft for the firefighting variant of the D328eco, able to offer leasing or ACMI services, plus related support.
"Multi-role aircraft can be challenging projects and we see an opportunity to offer a different approach to governments around the world," says Sameer Adam, senior vice-president, commercial at ACIA.