Embraer has launched a passenger to freighter conversion programme for its E190 and E195 regional jets and is aiming for entry into service in early 2024.
The Brazilian aircraft manufacturer says the full freighter conversion is available for all pre-owned E190 and E195 jets and that it sees a market for this size of aircraft of around 700 over the next 20 years.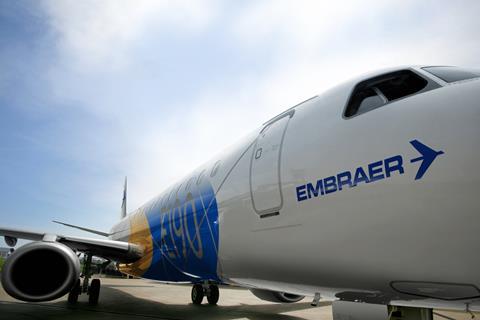 Embraer president and chief executive Arjan Meijer says: "Perfectly positioned to fill the gap in the freighter market between turboprops and larger narrowbody jets, our P2F E-Jet conversion hits the market as the demand for airfreight continues to take off, and as e-commerce and trade, in general, undergoes a global structural transformation."
Conversion work will be carried out at Embraer's facilities in Brazil and will include aspects such as a main deck forward cargo door, cargo-handling system and floor reinforcement work. The E190F will have a payload of 10,700kg (23,600lb) and the E195F of 12,300kg.
The manufacturer believes the P2F programme not only meets the requirement to replace ageing existing small narrowbody freighters and the growing demand for same-day deliveries fueled by e-commerce, but addresses the coming replacement cycle for E-Jets which entered service 10-15 years ago and are emerging from long-term leases.
"The full cargo conversion will extend the life of the most mature E-Jets by another 10 to 15 years, and encourage their replacement with more efficient, more sustainable, and quieter aircraft," Embraer says.
Embraer Services & Support president and chief executive Johann Bordais says: "With more than 1,600 E-Jets delivered globally, customers of this new freighter segment will benefit from well established, mature, global services network, in addition to a comprehensive portfolio of products ready to support their operation from day one."