Mitsubishi Aircraft's SpaceJet programme has suffered another major delay, with the first delivery slipping potentially a year or more from the current target.
In its third-quarter results announcement, Mitsubishi Heavy Industries (MHI), the parent of Mitsubishi Aircraft, said that the "first commercial delivery of SpaceJet is expected to be in FY2021 or later."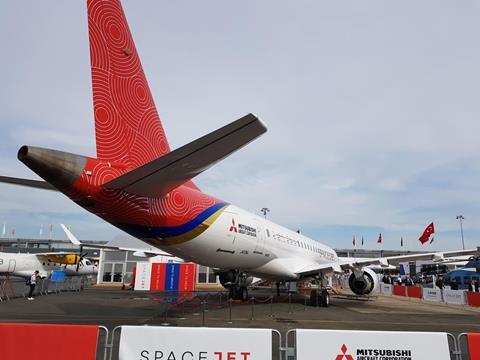 Japan's 2021 financial year runs from April 2021 to March 2022. All Nippon Airways had been due to receive the first aircraft, a SpaceJet M90, in mid-2020.
The announcement follows reports from Japan that the aircraft would be delayed until late 2021 or 2022, upon which Mitsubishi Aircraft declined to comment. A Nikkei Asian Review report on 25 January attributed the postponement of the first delivery to the delayed shipments of parts, which will affect the type certification in Japan.
For the current Japanese 2019 fiscal year, which runs to April 2020, MHI expects "business activities" related to the SpaceJet programme to lose Y270 billion ($2.5 billion), and account for losses of Y60 billion attributable to MHI's shareholders.
Mitsubishi Aircraft's executive suite also will see a change. Effective from 1 April, Mitsubishi Aircraft president Hisakazu Mizutani will become the company's chairman.
"In this role, he will oversee the governance of the global, Mitsubishi Aircraft Corporation organisation as well as lead the company's deep relationships with All Nippon Airways and Japan Airlines," says MHI.
Replacing Mizutani will be Takaoki Niwa, a 40-year veteran of MHI with an engineering and aviation background. His mission will be to achieve type certification for the SpaceJet M90 and complete development of the aircraft's family. His last role was as president and chief executive of MHI America.
The fresh delay, the sixth for the programme, follows a challenging 2019 for the aircraft, which was originally supposed to enter service in 2013.
At the Paris air show in June, Mitsubishi dropped the older MRJ branding in favour of SpaceJet. It also revealed that a new variant called the SpaceJet M100 was under development. The M100 will be a 76-seater small enough to satisfy scope clause requirements that effectively bar US regional carriers from operating larger aircraft.
Last year also saw the M90, which is larger than the M100, secure a memorandum of understanding for 15 jets from an unnamed US carrier, and a commitment for 50 aircraft from Mesa Airlines.
This, however, was shortly followed by Trans States Holdings, which had long held faith the programme, cancelling its order for 50 M90s.
Cirum fleets data indicates there are now 163 orders for the aircraft, with another 124 on option.