Indian regulators have taken the first steps to easing restrictions on Boeing 737 Max flights by approving foreign carriers to overfly its airspace using the type.
A string of regulators have cleared the Max for a resumption of services since the US Federal Aviation Administration re-certificated the jet last November, ending the 20-month grounding.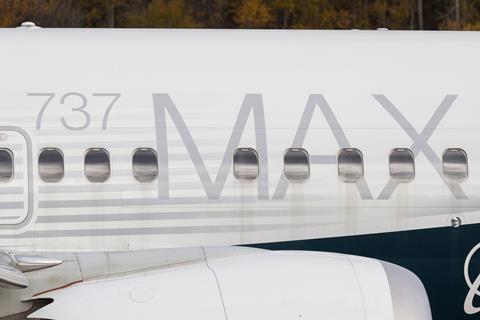 While India is still to clear its own country's airlines to resume 737 Max flights, Indian aviation regulator DGCA issued an order today allowing foreign carriers to overfly Indian airspace with the narrowbody.
UAE carrier FlyDubai, which resumed Max flights earlier this month, was previously reported by the Times of India as having sought authority to operate flights to and over Indian airspace.
SpiceJet, which has a fleet of 13 Max aircraft, is the only current Indian operator of the single-aisle, with former customer Jet Airways having ceased flights.
Today's DGCA order also clears the path for foreign-registered Max currently grounded in India to perform operational readiness and ferry flights out of the country.