Electric propulsion specialist Magnix has named chief operating officer Michele D'Ercole as interim chief executive, filling a position left vacant by the recent departure of former CEO Roei Ganzarski.
The company has also named board member Dominique Spragg as its new executive chair – another role that had been held by Ganzarski.
Last week, Ganzarski disclosed he was stepping down from both posts and leaving Magnix. He had been CEO for four years and did not specify reasons for his departure.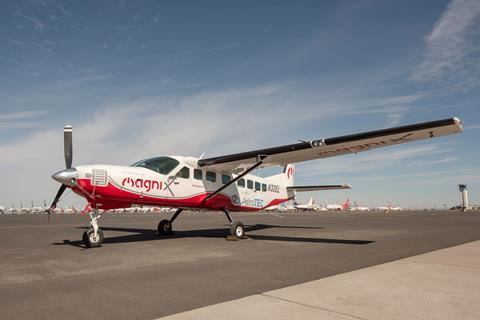 Magnix describes D'Ercole as "instrumental in guiding Magnix's growth", saying he takes the reins "at a time when Magnix is deeply involved in the certification process for a new era of electric flight".
Magnix produces two propulsion systems for electric aircraft, including those that power Eviation's in-development all-electric aircraft Alice.
D'Ercole's "experience as a design engineer and in certification processes throughout his career will significantly benefit Magnix and propel the entire industry forward," Magnix says.
A longtime General Electric executive, D'Ercole joined Magnix in October 2019 as chief programme engineer and general manager, based in Queensland, Australia. He became COO in January 2020, and in January 2021 relocated to Everett, Washington, where Magnix is based, according to his LinkedIn profile.
For more than two decades, until 2019, D'Ercole worked at GE and affiliated companies. He spent three years with GE Aviation in the Czech Republic, for a time holding the position of president and managing executive of GE Aviation's Czech operation.
Prior, he worked 13 years for GE's oil and gas business, and before that spent six years at Avio Aero, an Italian aerospace systems manufacturer acquired by GE in 2013.
Magnix's new executive chair, Spragg, has been a board member since 2020. He is also chief of aerospace strategy at Clermont Group, the Singapore investment company that owns parts of Magnix and Eviation.
From 2018 to 2020, Spragg had been vice-president of strategy for Canada's Longview Aviation Capital, owner of Viking Air and De Havilland Canada. Spragg had also, from 2007 to 2018, been a vice-president at Viking Air.
Ganzarski announced his departure from Magnix in a 6 January LinkedIn post. Neither he nor Magnix have specified why he left.
But Ganzarski tells FlightGlobal he made a "tough decision" to leave the company.
"It would not be appropriate to elaborate on the detailed reasons, but it is something I felt I had to do," he said.