This was to have been the year for Mitsubishi Aircraft's SpaceJet programme, formerly known as the MRJ.
It kicked the year off by beginning certification flights in March. Weeks later, a federal judge in the USA dismissed rival Bombardier's claims that Mitsubishi Aircraft had violated trade secret laws. The rivalry took a surprising turn when Mitsubishi Aircraft confirmed rumours that it would be acquiring Bombardier's CRJ programme.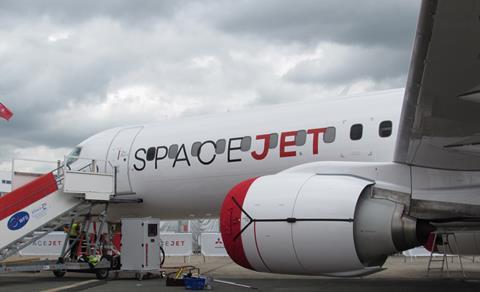 Big news followed in the run-up to June's Paris air show, when Mitsubishi announced an overhaul of the MRJ programme. The aircraft was rebranded as the SpaceJet, and work was under way on a new variant, dubbed the SpaceJet M100 – a 76-seater small enough to satisfy the so-called scope clause requirements that effectively bar US regional carriers from operating larger aircraft.
Then, at Paris, Mitsubishi signed a memorandum of understanding with an undisclosed North American customer to start formal negotiations for 15 SpaceJet M100s. In September, the M100 received another boost – Mesa Airlines indicated its intent to order up to 50, with purchase rights for another 50.
But, and perhaps not surprisingly for this much-delayed programme, optimism soon collided with reality. In mid-October, reports suggested the programme was facing a fresh round of delays. Mitsubishi neither confirmed nor denied the reports, insisting the programme was on track.
Then, a week later, another bombshell: Trans States Holdings, which owns several US regional carriers, cancelled its order for 50 SpaceJet M90s, along with its options for 50 more. The reason: that the 88-seat variant did not "meet the requirements of the US market".
As 2020 approaches, service-entry plans look to be in jeopardy. The first M90 was due to be handed over to launch customer All Nippon Airways in mid-2020.
Mitsubishi, meanwhile, has been redoubling assurances that the programme remains on track. The company has told FlightGlobal that it has "made tremendous progress" over the past two years and is "in a much stronger position now".
One cancelled order, however large, does not of course derail development and certification. But until delivery and service entry the question remains – will 2020, finally, be the year of the first all-new Japanese commercial passenger jet in decades?