Spirit AeroSystems intends to produce 737 fuselages at a rate of 10 monthly starting in January 2021 – a rate that would allow the company to burn down its inventory of finished fuselages.
"Right now we are in the process of ramping up to 10 aircraft per month for January," chief executive Tom Gentile says during Spirit's third-quarter earnings call on 3 November. "We are in the process of getting all of our head count and material orders and supply chain aligned for that."
Boeing has not specified the rate at which it intends to produce the still-grounded 737 Max in 2021, though the Chicago-based airframer anticipates turning out 31 of the jets by early 2022.
"We are going to lag them by about five per month," Gentile says.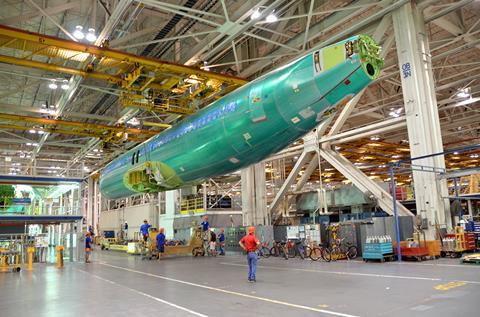 Boeing has predicted regulators will certificate the Max, which has been grounded since March 2019, before year-end.
Spirit's five-fuselage-monthly lag will enable it to begin shipping to Boeing the 128 737 fuselages that Spirit stockpiled amid the grounding.
Spirit intends "to decrease the inventory of shipsets to a permanent buffer of 20 to 25 units" – enough to help the company weather potential future unexpected production hiccups, Spirit says.
Prior to the Max grounding, Spirit generated roughly half its revenue from 737 Max fuselage production.
Spirit has said it expects to produce 72 737 fuselages in 2020, down from 52 fuselages monthly before the grounding.
Through the end of the third quarter Spirit had delivered 52 737 fuselage sets, it says.
The company has significantly contracted this year amid the dual Max-pandemic pressures, cutting its commercial aerospace workforce by about 44%, or more than 8,000 workers, Gentile says.
Spirit also closed its McAlester, Oklahoma site, where it machines components for Boeing aircraft. The company is shifting that work to Tulsa and Wichita.