Spirit AeroSystems has officially launched production of fuselage sections for the Airbus A220 at its site in Casablanca, Morocco.
Acquired by the US aerostructures giant from Bombardier in 2020, the Casablanca facility now builds aft and forward fuselage sections, plus keel beams, for the small narrowbody.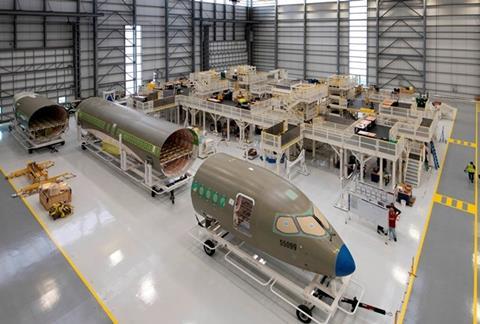 These components are then shipped to Spirit's site in Belfast, Northern Ireland for assembly and eventual onward delivery to final assembly lines in Mirabel, Canada and Mobile, USA.
The Belfast plant, which makes the integrated wing for the A220, was acquired by Spirit as part of the same 2020 deal.
"We are developing an ambitious roadmap to accelerate the growth of our Casablanca site, with the support of our Ministry of Industry and Trade, and are delighted to extend our manufacturing capability to include this latest programme for Airbus," says Stephen Orr, vice-president and general manager, Spirit AeroSystems, Morocco.
Spirit says the work packages have been transfered from Belfast "which has been working closely with our Casablanca facility on the development of its local manufacturing capability."
This story has been updated with additional detail from Spirit AeroSystems in the final paragraph