Aerospace company Triumph Group confirms that in August it completed a planned sale of G650 wing work Gulfstream for proceeds of $52 million.
The sale continues Triumph's broader efforts to divest aerostructures work.
The Pennsylvania company disclosed the G650 deal in its fiscal year 2021 second-quarter report, released 5 November.
"In August 2020, the company completed the transfer of its remaining G650 wing supply-chain activity and engineering services to Gulfstream," the report says.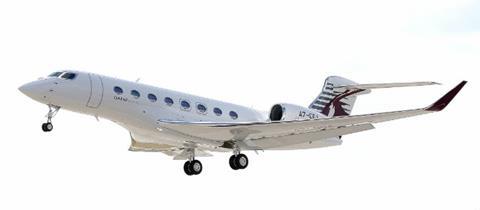 Triumph does not specify the date that the deal closed.
On 4 August the company had announced its intention to sell the work to Gulfstream.
Triumph's financial documents note that, from fiscal years 2015 to 2019, its aerostructures business accumulated losses stemming from work related to the G650, G280 and Boeing's 747-8.
Boeing has said it will end 747 production in 2022.
Triumph has for several years sought to shore up its G650 programmes. In 2019, it transferred G650 wing work from a Tulsa facility to Gulfstream's Savannah site, but retained a role as supply chain integrator.
Triumph still provides G650 flaps and wing components under a separate agreement, it says.
Triumph also expects to complete the sale of its composites manufacturing operation, which includes sites in Georgia and Thailand, by March 2021.
In August it disclosed having signed an agreement to sell that business to private equity company Arlington Capital Partners.
Story corrected on 10 May 2021 to note that Triumph's 2015-to-2019 financial documents show the aerostructures losses.