United Airlines is not planning for the Boeing 737 Max's return to service this summer, making it the first airline to announce it will operate without the aircraft during a second peak travel season.
The troubled aircraft has been grounded since March 2019 after two deadly crashes that killed 346 people. The Federal Aviation Administration has not given a timeline for the aircraft's re-certification, and Boeing said earlier this week it expects it will be "mid-2020" before the Max can realistically return to service.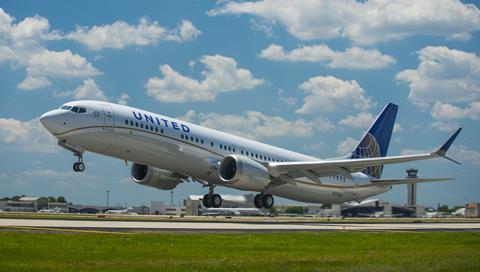 "We continue to assume there will be a safe return of the Max and we're actually encouraged at what we hope is a more realistic timeline or target," the Chicago-based carrier's president Scott Kirby says on 22 January. "We will announce our own pushback of service to give us time to get the airplane up and running and time for classroom training and simulator training for our pilots."
Chief commercial officer Andrew Nocella added, "We are now assessing the impact to the schedule, but don't anticipate flying the Max this summer."
Boeing said on Tuesday that it now expects the Federal Aviation Administration will re-certificate the 737 Max in the middle of 2020. The company's latest projection "accounts for the rigorous scrutiny that regulatory authorities are rightly applying at every step of their review of the 737 Max's flight control system, and the Joint Operations Evaluation Board process, which determines pilot training requirements," the Chicago-based company said.
Previously, United had removed the aircraft from its schedules through 4 June. Other airlines had followed suit, with many modifying their schedules well into that month, and peak summer holiday travel season. The new delays could mean the entire industry will spend a second summer without the new, fuel-efficient aircraft.
United's executives also say it is too early to plan for Max aircraft that are already built and waiting for delivery, and were reluctant to give guidance on how much they will allocate to their capital expenditure budgets in the coming years.
"There are 16 aircraft already built, sitting in Boeing facilities, and we'd like to get those," chief financial officer Gerry Laderman says. "Especially after Boeing shut down the line they need to tell the customers how they will allocate slots to everyone and that will drive our 2021 Capex numbers."
The Max grounding and delivery delays have also affected the airline's strategy in expanding connectivity in its North American mid-continent hubs, Nocella says.
United has 14 Max aircraft in storage and another 166 Max on order, according to Cirium fleets data.
As for pilot and crew training related to the aircraft, United anticipates little problem fulfilling any additional training requirements the FAA will demand once the 737 Max is again green-lighted for service.
"We don't anticipate any issues if simulator training is required by the FAA," says Greg Hart, chief operations officer. "We have ample simulator capacity and are working on plans that will allow us to comply with the guidance the FAA issues." He adds that the company has one fixed training device in Denver, and expects another to be up and running in the next six to eight weeks and two more later in the year.
HIGHER PROFIT
United posted higher profits and revenues for the full year 2019 on Tuesday, as traveler demand climbed and fuel prices were lower than expected. Full year net profit rose 41.8% to $3 billion, from $2.1 billion in 2018, and overall revenue rose 4.7% to $43.3 billion, from $41.3 billion in 2018. The airline also says it flew more passengers in 2019 than in any year in its history.
During 2019, the airline announced new international routes, including direct flights from Newark to Cape Town, Prague and Naples, several expanded routes, including four new daily nonstop flights to Tokyo's Haneda airport.
In the last quarter of the year the airline took delivery of delivery of two new 777-300ER, two new 787-10, nine new Embraer E175 as well as several used aircraft. It also had announced an order to purchase 50 new Airbus A321XLR aircraft.
ASIA UNCERTAINTY
While Latin America has continued to be a strong region for the airline, Asia lagged behind in 2019, executives say. Earlier this month the airline said it was taking a $90 impairment on its routes to Hong Kong due to lower demand. But demand to Beijing and Shanghai had picked up in the last few weeks, Nocella says, before reports that a new coronavirus had broken out in the region. Executives say they are monitoring the reports about the virus, which has killed 17 people in China, sickened hundreds and is beginning to spread around the world.
"We can't tell you what the impact of the coronavirus will be. We are coordinating closely with the Centers for Disease Control, and taking necessary steps to ensure that customers can travel safely," Kirby says. "We will follow the experts' advice closely."