Flybe's collapse is a serious blow for De Havilland Canada's Dash 8-400 programme as the UK regional carrier was the turboprop's largest operator.
Cirium fleets data shows that Flybe has 54 Dash 8-400s alongside 14 Embraer E-Jets. The airline's turboprops represent nearly 10% of the global Dash 8-400 fleet, comprising 471 in-service aircraft and 93 aircraft in storage.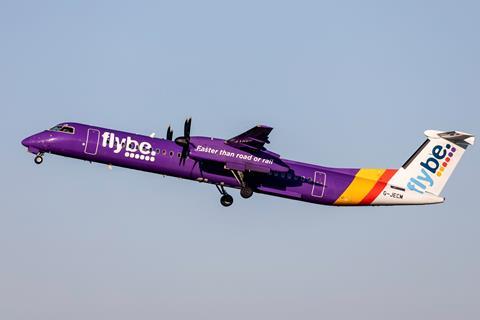 To compound De Havilland Canada's woes, several other large European Dash 8-400 operators are in the process of phasing out the type.
Austrian Airlines started in 2019 to replace its then 18-strong Dash 8-400 fleet with Airbus A320s under a plan to complete the roll-over by 2021. Today, the Lufthansa Group carrier has 14 Dash 8-400s aged 10-22 years.
German regional carrier LGW is Europe's second largest Dash 8-400 operator with 16 aircraft aged 10-14 years. But that carrier too has decided to retire its Dash 8-400s and replace them with E-Jets by autumn 2021 as part of a fleet plan disclosed in 2019.
LGW operates Dash 8-400s for Lufthansa budget arm Eurowings under a wet-lease agreement. Lufthansa Group previously owned LGW, but divested the regional carrier in 2019 to German logistics company Zeitfracht. Lufthansa Group's website indicates that Eurowings operated 15 Dash 8-400s in February.
In third place of Europe's largest Dash 8-400 operator list is Air Baltic. The Latvian carrier has 12 Dash 8-400s built between 2010 and 2013, but will phase out the type. The airline, which also has a small number of Boeing 737 Classics, intends to have an all-A220 fleet from 2023.
Other European Dash 8-400 operators include Polish flag carrier LOT (12 aircraft), Luxembourg-based Luxair (11) and Wideroe (10). The latter Norwegian regional carrier has more than 40 Dash 8-series aircraft, including -100s through to the -400.
Aegean Airlines' regional subsidiary Olympic Air has eight Dash 8-400s, Croatia Airlines has six, and Portuguese operator SATA and the French government's Securite Civile agency have each four Dash 8-400s.
However, the combined fleets of Flybe, Austrian, LGW and Air Baltic represent 58% of the European-based Dash 8-400 fleet.
And on a global scale, Flybe's demise has more than doubled the share of stored aircraft in the entire Dash 8-400 fleet from nearly 7% – 39 units – to 16.5%, or 93 aircraft.
Rob Morris, global head of consultancy at Ascend by Cirium, says that Flybe's large share in the global Dash 8-400 fleet is "clearly a significant issue".
Noting the high share of parked aircraft and additional equipment set to be phased out by Austrian, LGW and Air Baltic, he says: "The outlook for the aircraft, particularly in Europe, looks quite bleak."
Over the past two years, 32 new Dash 8-400s were delivered by the manufacturer, while 35 used aircraft transitioned to new operators.
Morris says: "With 54 aircraft suddenly becoming idle today, it seems likely that it will take a significant amount of time to absorb these plus the other 39 already stored aircraft. Consequently there may be negative implications for values and lease rates."
De Havilland has an order backlog for 45 aircraft. The Canadian manufacturer acquired in 2019 the Dash 8-400 programme from Bombardier.
None of the orders are associated with operators in Europe. Customers with orders for the turboprop include Biman Bangladesh Airlines, Ethiopian Airlines, Indian budget carrier SpiceJet, TAAG Angola Airlines, and Canadian aerial firefighting operator Conair.
This analysis was written by Michael Gubisch, part of Cirium's London-based reporting team