Russian president Vladimir Putin has moved to effectively seize hundreds of aircraft currently operated by Russian carriers from foreign lessors.
Putin on 14 March signed a law that allows the jets to be registered in Russia, in essence confiscating them from their overseas owners, retaliating against sanctions imposed by Western countries as a result of Russia's invasion of Ukraine almost three weeks ago.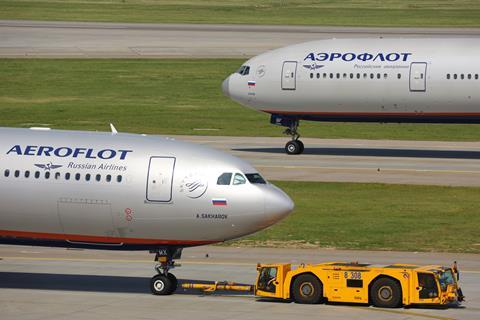 According to the Kremlin, the move is "aimed at preserving the fleet of foreign aircraft from the operators of the Russian Federation in order to ensure the uninterrupted functioning of activities in the field of civil aviation as part of the adoption of 'anti-sanction measures'".
The new "Amendments to the Air Code of the Russian Federation and Certain Legislative Acts of the Russian Federation" is published on the Kremlin's official internet portal of legal information.
Last week, the Russian ministry of transportation proposed legislation outlining conditions for returning leased aircraft to foreign lessors, including approval from a government committee.
The "amendments" come in response to wide-ranging sanctions imposed by the European Union and other Western countries following Russia's invasion of Ukraine on 24 February. The nations have closed airspace to each others' aircraft since early in the conflict.
Some 515 commercial aircraft leased from foreign companies are operated in Russia, with an indicative value of $10 billion, according to German-based credit rating agency Scope Ratings. Close to half of the aircraft are supplied by Irish-based lessors.
Although European Union sanctions require termination of leases and repossession of aircraft by the end of March, Scope argues that it is "unrealistic" for lessors to achieve this within a month – particularly given that, even under normal circumstances, repossessions from Russia could take up to six months.
Over the weekend, Bermuda's civil aviation regulator suspended all certificates of airworthiness of aircraft operating in Russia under the bilateral agreement between the two sides. The suspension entered effect just before 13 March.
Large numbers of civil aircraft operating in Russia for some of that country's largest operators – Aeroflot, Pobeda, S7 Airlines, and Ural Airlines – are held on the Bermuda registry, and the bilateral ICAO agreement means Bermuda is responsible for airworthiness approval.
Dublin-based AerCap has by far and away the largest exposure to the Russian market, with 146 jets on lease to carriers in the country, followed by SMBC Aviation Capital (35, plus one managed aircraft), and Air Lease (31). Other lessors in the top 10 include BOC Aviation, Carlyle Aviation Partners, Dubai Aviation Capital and Avolon.
AerCap, in a 28 February stock market filing, said as of 31 December 2021 around 5% of its fleet by book value was on lease to Russian airlines. At the time, it said it would "fully comply with all applicable sanctions, which will require us to cease our leasing activity with Russian airlines".