Almost two dozen people were injured when a Hawaiian Airlines flight encountered severe turbulence from a Pacific storm shortly before landing in Honolulu, the airline has said.
The Airbus A330, travelling from Phoenix to Honolulu on 18 December, was carrying 278 passengers and 10 crew.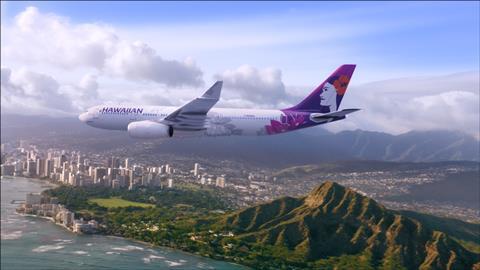 "Hawaiian Airlines is continuing to support the 17 passengers and three crewmembers who sustained injuries after flight 35 from Phoenix to Honolulu encountered severe turbulence yesterday," the company says. The aircraft landed safely at Honolulu's Daniel K Inouye International airport at about 10:50 local time.
"Hawaiian is conducting a thorough inspection of the aircraft before returning it to service," the Honolulu-based airline adds.
According to Cirium fleets data, Hawaiian operates 24 of the Airbus widebodies on its long-haul routes from Honolulu.
The aircraft encountered a storm crossing the Pacific approximately 30min before the flight was due to land in Honolulu.
The Federal Aviation Administration did not respond to a request for comment and the National Transportation Safety Board (NTSB) says it has opened an investigation into the incident.