A United Airlines pilot flying from Sydney to San Francisco did not expect a change in departure procedures out of the Australian airport, and incorrectly adjusted his flight management system (FMS).
As a result, the departing Boeing 777-300ER, registered N2333U, encountered a loss of separation incident with a Virgin Australia ATR 72-600, registered VH-FVQ, that took off from a parallel runway.
Releasing its final investigation report into the 22 January incident, investigators from the Australian Transport Safety Bureau (ATSB) stressed the importance of following correct procedures and effective crew communication.
At around 14:21 local time, the Virgin Australia turboprop was cleared for take off from Runway 34R, operating flight VA1153 and bound for Tamworth in New South Wales state.
Less than a minute later, air traffic controllers cleared the United widebody for departure from Runway 34L.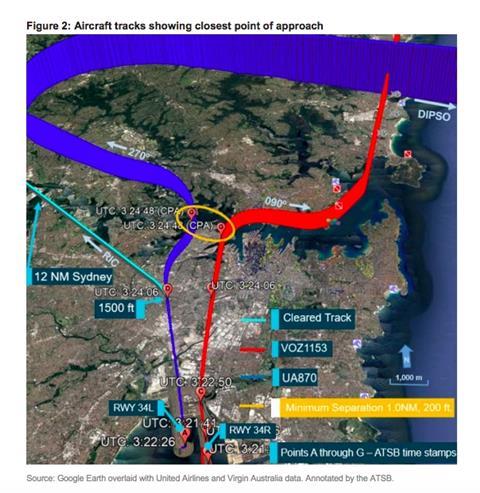 The United 777, operating flight UA870, was required to maintain the runway heading of 335º, before turning left at an altitude of about 1,500ft, and then tracking northwest of Sydney, before banking right into the Pacific Ocean.
Investigations revealed that the pilot had expected a "more simplistic procedure" that was often provided to foreign crew departing Sydney for an oceanic route.
As such, he pre-programmed the aircraft's FMS system in anticipation of being able to turn right towards the Pacific Ocean after departure.
However, he became confused when the system updated to represent the actual departure clearance provided, and incorrectly readjusted it before engine start.
This led the 777 to climb straight to about 2,100 ft, and then turn right - about 45º off the required heading. The incident saw the wideboy come just 1,843m laterally and 60m vertically from the ATR 72.
Air traffic controllers detected the loss of separation and intervened. Required separation was re-established and both flights continued without further incident.
ATSB investigators also found that the pilot flying "probably did not effectively communicate the changes" in the flight management computer to his crew, nor did he cross-check it with his crew.
"Any amendment to the flight management computer, particularly those applicable to the more critical phases of flight (departure and arrival procedures) should always be announced, and then carefully and independently verified by at least one other crew member," the bureau states.
The ATSB also highlighted that air traffic controllers can assist foreign crew — like the United crew — by "proactively factoring" the crew's unfamiliarity when providing airway clearances.