Greece's Aegean Airlines plans to establish the country's first advanced flight training centre through a partnership with Canada's CAE, a top provider of flight simulators for pilot training.
The carrier said on 30 March said the facility will have capacity for seven full-flight simulators and be "the most advanced flight training hub in southeast Europe powered by green energy".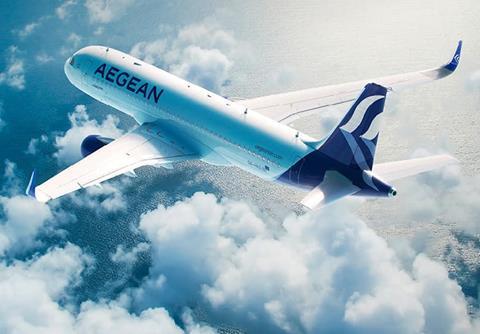 The Aegean CAE Flight Training Centre will be part of the airline's 85,000 sq m (915,000 sq ft) technical base at Athens International airport and is expected to begin pilot and cabin crew training by the end of this year.
The facility will initially operate four full-flight simulators – two Airbus A320neos, one Boeing 737NG and one ATR 72-600 – as well as cabin crew training equipment.
"At full capacity, the centre will be able to train up to 3,500 pilots and many more cabin crew annually," Aegean says.
Part of Aegean's new €140 million ($152 million) "aviation ecosystem" in Athens which includes the country's first maintenance, repair and overhaul (MRO) facility, the training centre represents a significant investment in Greece's aviation industry, the companies say.
Dimitris Gerogiannis, Aegean's chief executive, says his airline's new partnership with CAE will "establish the first aviation ecosystem for flight training and technical support services in Greece".
"We look forward to a successful joint venture with Aegean and to seeing the aviation industry flourish in Greece and the entire region," adds Nick Leontidis, CAE's president of civil aviation.
The airline's investments are expected to create 500 new highly skilled jobs, Aegean says.
Solar energy produced by 35,000 sq m (377,000 sq ft) of photovoltaic panels embedded in Aegean's "green" hangar will power the training centre.
The Athens-based airline operates a fleet of 76 narrowbody Airbus aircraft, which it is in the process of renewing with A320neos and A321neos.
Last year, CAE launched a new pilot training centre in Sydney through a partnership with Qantas.