Air Canada says that one of its reactivated Boeing 737 Max experienced an engine issue during a repositioning flight, bringing renewed scrutiny to the beleaguered type just weeks after it was re-certificated following a 20-month grounding.
The Montreal-based carrier says on 25 December that the aircraft was on a non-revenue flight from a storage facility in Marana, Arizona to the airline's home base in Montreal on 22 December. Onboard were three crew and no other passengers.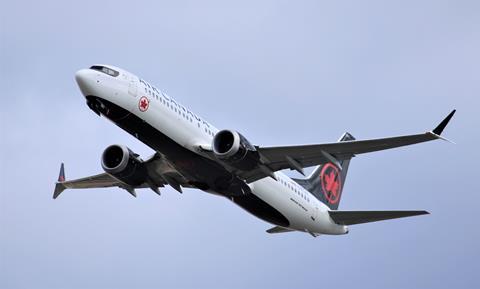 "Shortly after take-off, the pilots received an engine indication and, as part of normal operating procedures in such situations, decided to shut down one engine," the airline tells FlightGlobal. "The aircraft then diverted to Tucson, where it landed normally and remains."
According to Cirium fleets data, the airline has 24 of the type with another 16 on order with Boeing.
In November, the FAA re-certificated the aircraft with a long-awaited airworthiness directive (AD) after Boeing made some design and software changes, allowing it to re-enter revenue service in the US.
Canadian civil aviation regulator Transport Canada said at the time that it would also approve the type "soon".
On 17 December the regulator "validated" the airframer's updates, indicating it will lift the jet's grounding in that jurisdiction in early 2021.
"In January 2021, the department expects to issue a Canadian airworthiness directive which will stipulate the Canadian design changes that must be incorporated in Canadian aircraft," Transport Canada added.
Airlines around the world were forced to remove the 737 Max from their schedules in March 2019, after two fatal accidents killed 346 people.
Since the ungrounding, Latin American carriers Gol and Aeromexico have returned the type to revenue service. In the US, American Airlines will resume Max flights on 29 December, with the carrier planning to operate the aircraft on a round trip between Miami and New York's LaGuardia airport.
United Airlines will bring the type back into its schedule on 11 February, and all-Boeing carrier Southwest Airlines expects to have it flying in revenue service by March.