Airlines on both sides of the Atlantic are expressing relief that the US government will soon lift entry restrictions for fully vaccinated air passengers from most of Europe, the UK and other countries.
Airlines for America (A4A), which represents the largest US passenger carriers, says on 15 October that international bookings are up since information surfaced last month that the entry ban would be eased sometime in November. The reopening of free movement is "critical to reviving economies around the globe, reinvigorating communities and supporting millions of jobs".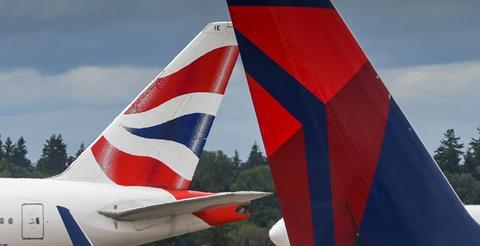 "We are pleased that the administration's new global vaccine and testing framework for international travel will be effective November 8, 2021," says A4A chief executive Nicholas Calio. "US airlines have been strong advocates for an individual risk-based system to safely ease travel restrictions, and we recognise that the safe reopening of borders is essential for our nation's economic recovery."
British Airways chief executive Sean Doyle adds, "Nearly 600 days since the introduction of the US travel ban, this is a pivotal moment for the entire travel industry and finally provides the certainty we have so desperately needed."
Earlier in the day a US government representative said the administration would be lifting travel restrictions for vaccinated non-citizens and non-residents. Those restrictions that had been in place since March 2020, when Covid-19 began to tear around the world.
"The US' new travel policy that requires vaccination for foreign national travellers to the United States will begin on Nov 8.," White House assistant press secretary Kevin Munoz writes on Twitter on 15 October. "This announcement and date applies to both international air travel and land travel. This policy is guided by public health, stringent, and consistent."
The commercial aviation and tourism sector has repeatedly requested the entry ban be scrapped in order to propel the industry's recovery. In the meantime, many major airlines have reinstated flights and expanded their international schedules in order to accommodate what they hope will be strong demand in the coming months.