American Airlines and British Airways have joined to offer free pre-departure coronavirus tests on some flights between the United States and United Kingdom.
The Oneworld alliance leaders say on 17 November that tests will be available to customers flying to London Heathrow from American's Dallas/Fort Worth, New York John F Kennedy and Los Angeles International airport hubs beginning on 25 November.
The move comes one day after US peer United Airlines launched a pilot programme of testing passengers on one thrice-weekly flight from Newark Liberty International airport to London Heathrow.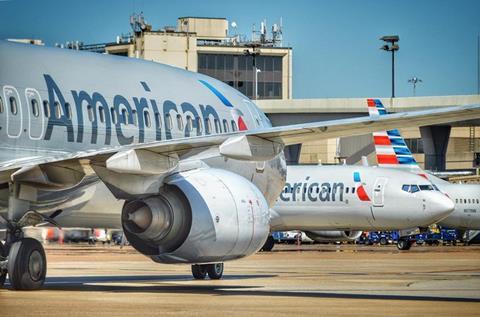 "The UK is a critically important business and leisure destination that our customers want to visit," American's chief executive Doug Parker says. "We believe the results provided by this trial will be vital for reopening transatlantic travel safely."
Participating customers will take three separate Covid-19 tests, the airline says.
Customers will take the first test 72h prior to leaving the USA. It will be self-administered under "virtual" medical supervision. The second will be conducted by a medical professional after landing in Heathrow. The third will be another at-home test, taken three days after arriving in the UK.
"The three-test approach aims to validate a customer's negative status for Covid-19 throughout the travel journey and will provide insight into the most effective and practical testing interval," American says. "The third test is intended to further confirm the results of the first two tests, to demonstrate that one or two tests will be sufficient to allow travel to safely restart."
American has already introduced a pre-departure coronavirus testing programme on some flights flights from the US mainland to Caribbean destinations and Hawaii.
United's programme, launched on 16 November and scheduled to last four weeks, tests all crew and passengers over age two prior to embarking. It is mandatory for passengers on designated flights; those who opt out will be rebooked, the airline says.
Like participants of United's programme, those participating in the American-BA trial must still quarantine for 14 days upon arrival in the UK, as per local regulations, even if they have tested negative for the coronavirus.
Airlines and trade organisations continue to lobby governments to relax restrictions. Numerous regions that imposed strict travel restrictions, such as Hawaii, are now permitting customers to side-step isolation rules by providing negative results ahead of arrival.
"We need the UK Government to introduce a system that allows travellers to take reliable, affordable tests before departure, so they are confident that fellow passengers are Covid-free," BA chief executive Sean Doyle says on 17 November. "For people arriving from countries with high infection rates, a further test on arrival should then release them from quarantine."
"We are confident this approach would open routes, stimulate economies and get people travelling with confidence. The UK's economic recovery depends on the swift reopening of its skies," he adds.