The Australian Transport Safety Bureau (ATSB) is investigating a 5 January incident in which a British Aerospace BAe 146 freighter deviated below the vertical flightpath.
The serious incident occurred as the aircraft (VH-SFV), operated by Pionair Australia, conducted an instrument approach to Rockhampton aerodrome, says the ATSB.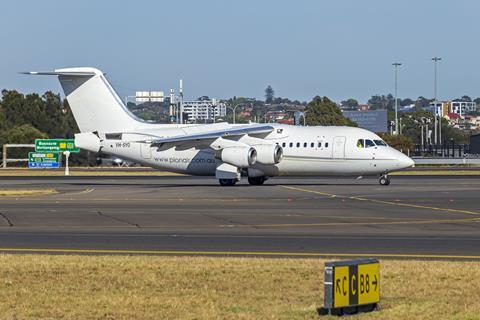 Flying in instrument meteorological conditions, the crew determined that the aircraft was below the required vertical flightpath.
The crew, 5nm (9km) from the aerodrome, immediately initiated a missed approach, and "almost simultaneously" received an EGPWS (enhanced ground proximity warning) alert.
The crew then diverted to Mackay Aerodrome, 150nm to the south.
A final report is expected in the third quarter of 2023.
Pionair operates passenger and cargo services from Sydney's Bankstown Airport. Cirium fleets data indicates that the aircraft was originally delivered in 1988 to TNT Express Worldwide. It served with several carriers before joining Pionair in 2016.
In November 2020, Express Freighters Australia, a unit of Qantas Freight, wet-leased the aircraft.